Franchise Marketing Agency Success Stories: How to Measure ROI, and Boost Your Bottom Line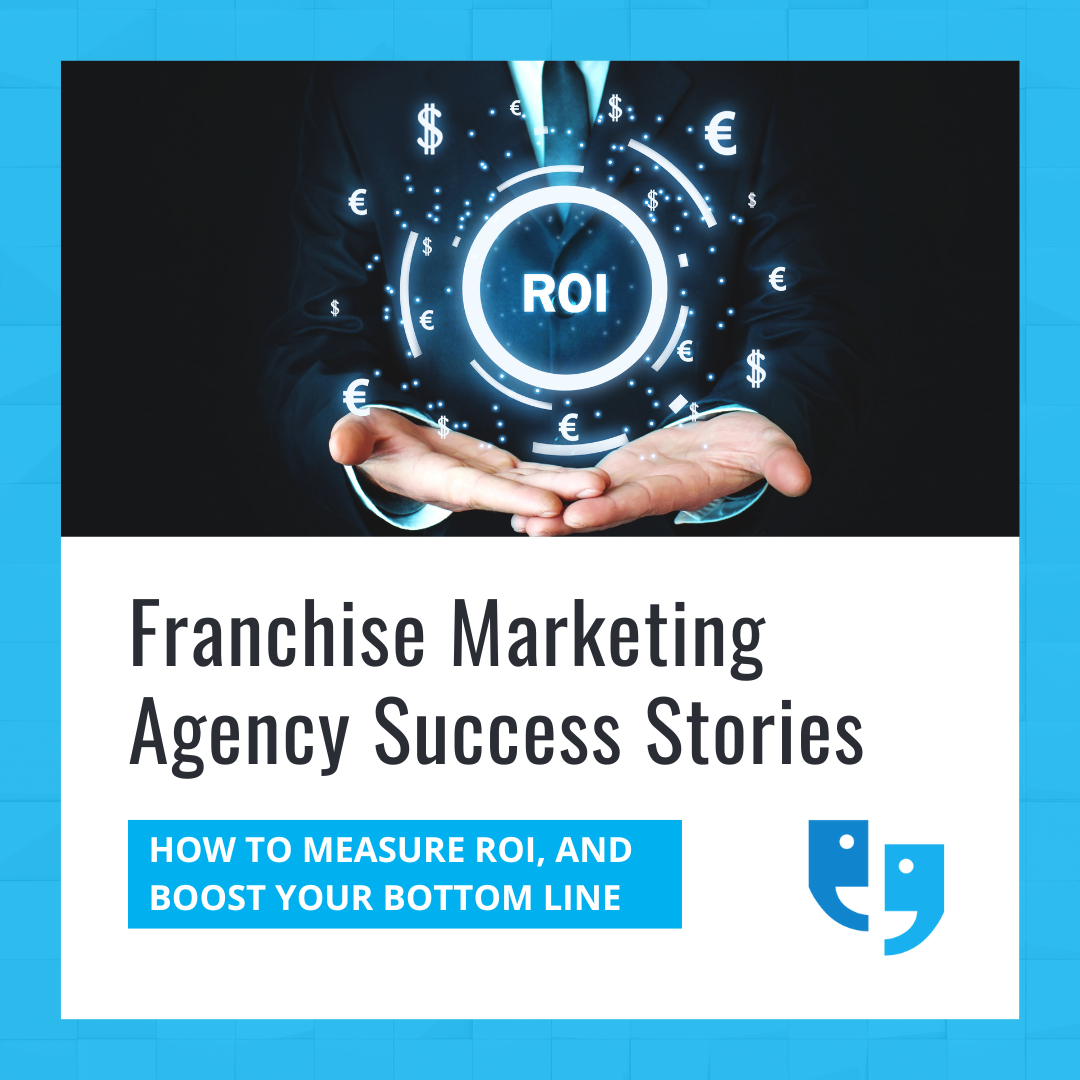 Have you ever asked yourself, why do the franchise brands I know use marketing agencies? How much does it help them grow? Franchise marketing agencies (like all of us at SocialMadeSimple) help their clients achieve their goals and objectives by creating a strategic plan to raise brand awareness, develop leads, generate sales, and above all, gain a return on their investment. 
Measuring return on investment (ROI) is essential in evaluating marketing success for any current and future campaigns. ROI helps businesses identify what they may gain compared to the costs required to operate. SocialMadeSimple has been helping our clients achieve their campaign goals for 14 years. We take pride in our results, which exemplify the valuable role a Franchise Marketing Agency can play in establishing a new brand.
In this article, we'll explore why ROI is vital for franchise marketing agencies, how to measure it effectively, and how it can boost your bottom line. We'll also look deeper into some SocialMadeSimple success stories along the way!
Why Measuring ROI is Important for Franchise Marketing Agencies
Measuring ROI can help pinpoint the success of a business venture and is the most important factor franchises use to determine the effectiveness of marketing campaigns. So how do we measure ROI? 
Measuring ROI boils down to setting qualitative or quantitative KPIs, or Key Performance Indicators, such as sales growth, lead-to-conversion rate, and other valuable focuses. As Forbes details, KPIs can help guide our decision-making and determine campaign results. However, it is not uncommon to run into problems when measuring ROI. 
Marketing Insider Group's recent article helps us point to the common issues new brands face when measuring their goals in their chart below.
Analyzing The Data: Franchise marketing agencies typically work with multiple platforms and channels – SocialModo makes all of their social media metrics available in one easy-to-access and understand platform. (Your Client Success Manager can help you dig into the data).
Determining The Right KPIs: Franchise marketing agencies often work with franchises at various stages of development and growth. The varying maturity levels can lead to disparities in marketing budgets, resources, and overall marketing strategies, making it difficult to compare and measure ROI consistently. At SocialMadeSimple, we work with franchises during different stages, from 1 store to over 500 locations.
Long-Term Brand Building VS. Short-Term ROI: With the proper tracking, short-term conversions and sales are easy to measure. Long-term brand building can be tough to put a dollar figure on, but that doesn't make it any less important. A solid marketing plan will have a balance of brand awareness and lower-funnel conversions. At SMS, our marketing experts can help franchisees understand where to deploy their marketing budgets best, thus, improving their bottom line.
In the next section, we'll cover a few of SocialMadeSimple's success stories that illustrate effective campaigns with measurable increases in ROI.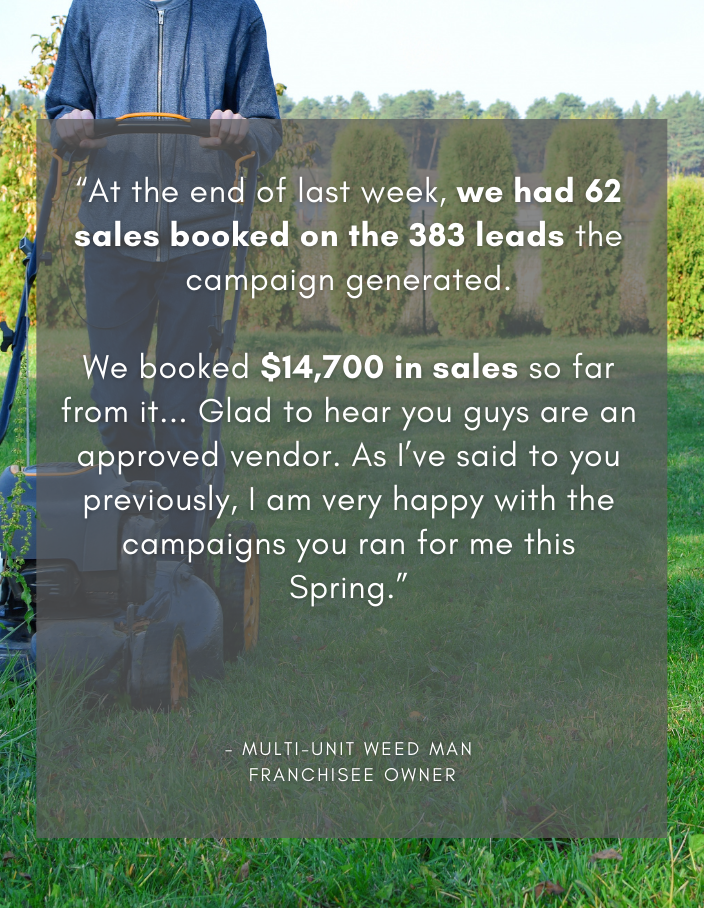 Floor Coverings International
Our next success story comes from Floor Coverings International. FCI is a manufacturer-direct flooring installation franchise with over 200 locations across North America. FCI needed an effective and scalable approach to social media marketing that could drive tangible results. That's where SocialMadeSimple comes in. 
Floor Coverings International participated in our 90-day Franchise Marketing Pilot Program with 5 locations. Their plan centered around high-quality, family-friendly content and targeted paid ad campaigns with the goals of expanding reach and lead generation.
By the end of the 3-month program, the campaign amassed significant ROI with KPI metrics of $35,000+ in total sales, 393,300 impressions, and 81,340 in Facebook reach. The ROI generated from this campaign has led to the mass expansion of the program. Today, SocialMadeSimple is the preferred social media vendor for FCI, fulfilling social for 85 franchise locations with SocialMadeSimple.
These results show how KPIs help to measure ROI effectively and give the client evidence of an exceptional return on their marketing business venture. 
Best Practices for Measuring ROI and Boosting Your Bottom Line
Measuring ROI is vital for any business to understand the effectiveness of its marketing efforts. When measuring ROI, a critical step is to establish clear goals and objectives and use reliable qualitative and quantitative KPIs to evaluate the success of a campaign. 
When considering the best goals and KPIs for a particular business, consider the challenges discussed above, such as company maturity and long-term versus short-term objectives. For a younger business, factors such as awareness and reach may be more important. In contrast, a more mature business may focus on customer acquisition cost and customer lifetime value. 
Delving a bit deeper into these KPIs, quantitative metrics can be very beneficial for guiding decisions. However, it's important to note that numbers aren't everything, and context needs to be understood to put value behind the metrics. This is especially apparent when discussing marketing strategies and metrics such as impressions, leads generated, cost-per-lead, and more. SocialMadeSimple helps interpret this data and ensures protection against potential pitfalls.
Our Final Word
The importance of measuring ROI for franchise marketing agencies cannot be overstated. ROI not only indicates the success of a given campaign, it also guides future decision-making. When looking at both the Weed Man Lawn Care and Floor Coverings International success stories, we saw their locations growing with SocialMadeSimple upon receiving results. 
Finally, ensuring that marketing strategies are cohesive is the foundation for reaching a high ROI. When looking to improve ROI, be sure to identify areas for improvement in your business and implement strategies that focus on hitting carefully considered KPIs. This way, we can properly measure ROI and optimize campaign results!
If you're interested in achieving a high return on your franchise marketing investment, get started with SocialMadeSimple's free franchise marketing pilot program. Schedule a call to get started today, reach out to us at +1 (888) 691-1147!