4 Powerful Ways Franchises Can Use Social Media For Recruitment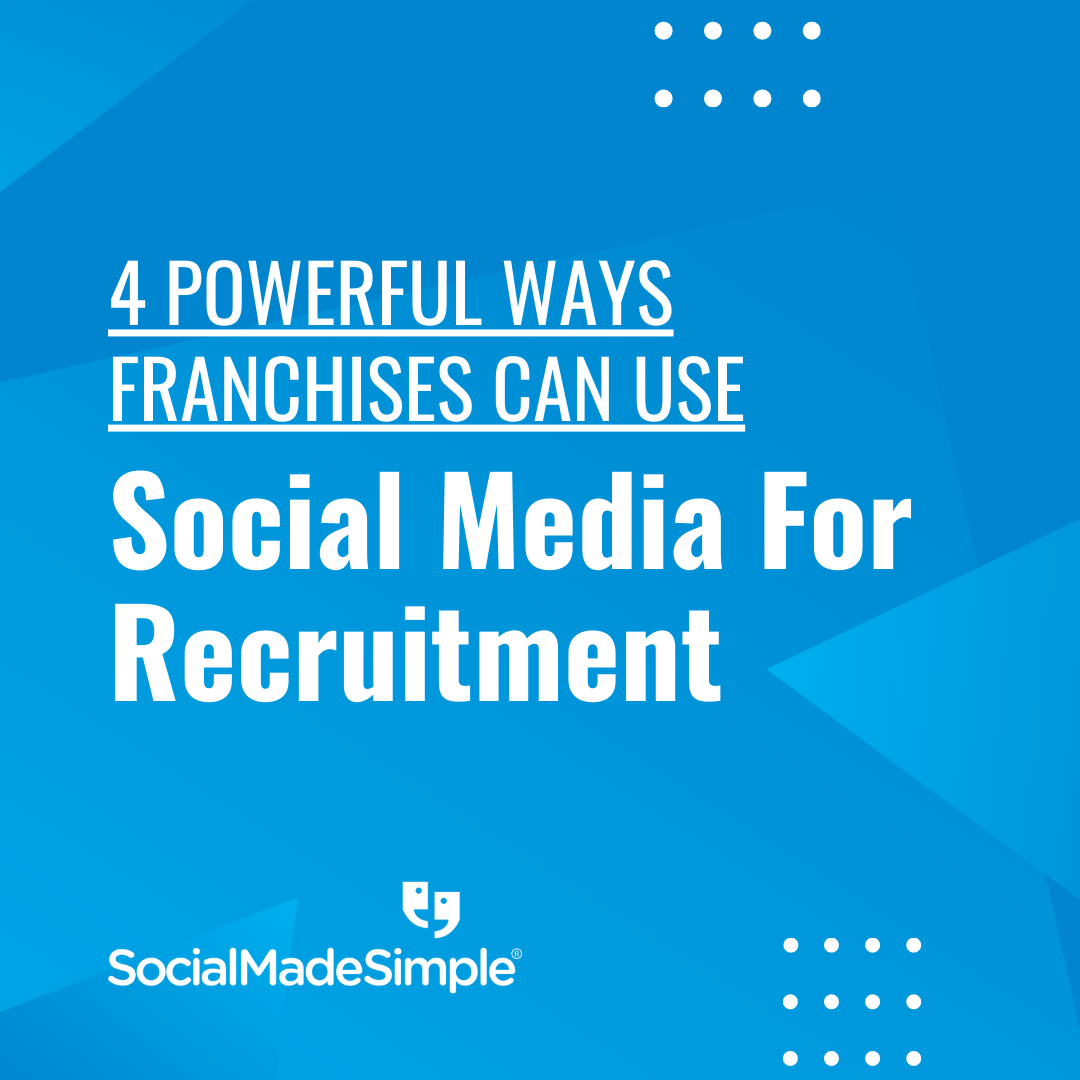 Why Using Social Media For Recruitment Works
Finding the right talent for your franchise comes with a set of challenges, which is exactly why nine out of ten brands use some form of social media to attract, engage with, and recruit qualified job candidates, otherwise known as social recruiting. Once you have identified your recruitment goals and who your ideal candidate is, you are ready to use the powerful tools social media holds. Over half of the world's population actively uses social media and 86% of job seekers use social media to search for jobs, apply for roles directly from social media, and engage with job-related content. Social recruiting works extremely well and impressively fast!
Let's break down four of the most effective ways to use social media for recruitment.
1. Take full advantage of Facebook for recruitment
Facebook remains the king of social media and, with nearly two billion daily active users, it's the perfect place to find your ideal job candidate. Facebook holds a world of marketing opportunities and for franchise businesses looking to recruit new employees, two of the most effective approaches are running paid advertisements and creating an organic job post.
Facebook Ads For Recruitment

What if I told you it's possible to place a Facebook ad on the feeds of your ideal job candidates and have them apply directly through the platform?
If you're new to Facebook advertising and how it works, or just want a bit more context around it, then give this blog post a quick read for a helpful overview of the foundation of Facebook ads: How To Get Started With Facebook Ads.
Put a budget behind your approach to recruitment and run Facebook ads to see the most effective results. Create ads using copy and imagery that clearly describe the role and possible benefits. It can be helpful to include imagery of satisfied employees, the job location or environment, and simply any unique elements that make your franchise business a desirable workplace. With lead generation ads, qualified applicants can click the "Apply Now" call-to-action button and fill in their information without ever leaving Facebook. Identify your ideal candidate and take advantage of Facebook's targeting capabilities (demographics, interests, and online behavior) to reach your audience.
Here's just a quick glimpse into some of Facebook's available targeting parameters: 
Demographics: Age, Location, Languages, Gender, Education Level, etc.
Interests: Business/Specific Industry, Fitness and Wellness, Entertainment, Food and Drink, etc.
Online behavior: How Users Interact Online, Engaged Shoppers, Mobile Device Users, etc.
2. Prepare each location's Pages for the spike in visitors
Would you apply to a job you knew little or nothing about? My guess is probably not. It's expected that most interested candidates will see your ad and either check out your social media presence first to then apply or submit their information and then explore your social media profiles (if they're brave). Regardless, it's safe to count on more visitors peeking through your social media pages and if you want to win over as many qualified potential employees as possible, you'll need to make sure your social media pages are prepared for incoming traffic.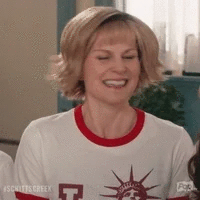 That means that all of the franchise's Facebook Pages need to, first, have the basics down:
Profile photo is the franchise's logo.
Cover photo is an on-brand image.

'About' section is complete

and clearly captures the essence of the franchise brand.
Call-to-action (CTA) button is selected and set up so the desired action is clear.
The location's business hours, contact information, etc. are completed.
Once you have the basics down, be sure to follow social media best practices when it comes to posting organically. For example, get in the habit of a consistent posting frequency so a potential hire doesn't visit your page and see your most recent post was from months ago. Most people want to see that your brand is active, engaging, and strategic on social media.
While you're at it, don't count out company culture content! In your content strategy, implement content posts that highlight the culture of your franchise business, your benefits, and show off happy employees. Company culture actually attracts the top 20% of candidates, according to research from Gallup. Applying to work for a new company comes with some risk, so give potential employees comfort by showing them all the benefits they can expect from working at your business.
Key takeaway: Don't underestimate the power of social media marketing, especially when hiring. 
Recruiting new talent doesn't need to be a long and tiring process. Find your ideal job candidates where they already are: Social media. Follow any (or all) of the strategies we covered and make hiring easy by utilizing social media for recruitment!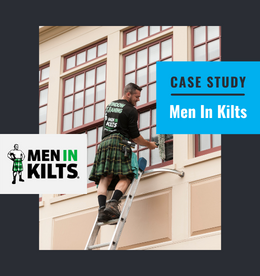 In a 90-day franchise social media marketing pilot program, SocialMadeSimple became the social media team for four Men In Kilts franchise locations with the goal of driving a consistent flow of leads in the form of sales and qualified job candidates. Through the success of their advertising campaigns and custom content, today, we are the preferred social media vendor for Men In Kilts! See how we helped Men In Kilts drive real results.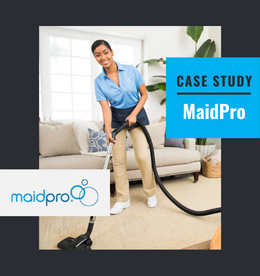 MaidPro, a home cleaning franchise with 200+ locations, was in need of a social media marketing strategy that could effectively build brand awareness, drive sales, & generate qualified job candidates for each location. Today, we are MaidPro's preferred social media vendor and continue their success using social media for recruitment. Check out the case study!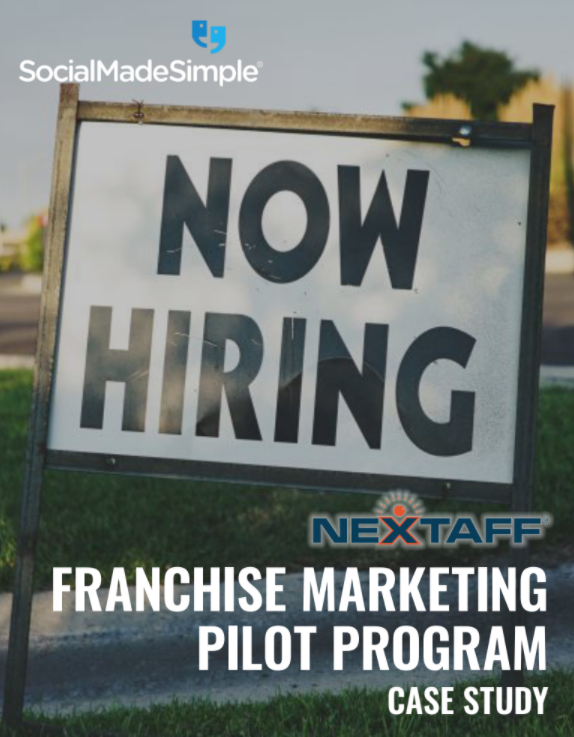 NEXTAFF is an employment and staffing agency that offers employers a range of staffing services and solutions. After a result-driven (& cost-free) Pilot Program, including new partnership opportunities with an estimated yearly value of $100,000+, SocialMadeSimple is now the go-to social media solution for 17 NEXTAFF franchisees & counting!