Senior Care Facility Uses Hyper-Targeted Social Marketing to Recruit Caregivers & Generate Client Leads
Senior Care Case Study
View Full Case Study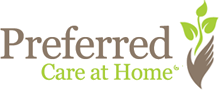 Preferred Care at Home is a national, family-run in-home care agency specializing in affordable senior care to assist with daily tasks and offer emotional and social companionship.

The Senior Care Facility was in need of a strategy to build brand awareness and drive qualified leads through targeted social marketing efforts. Additionally, given current staffing resources and the expected volume of new business leads, Preferred Care at Home needed a social marketing program that focused on caregiver recruitment.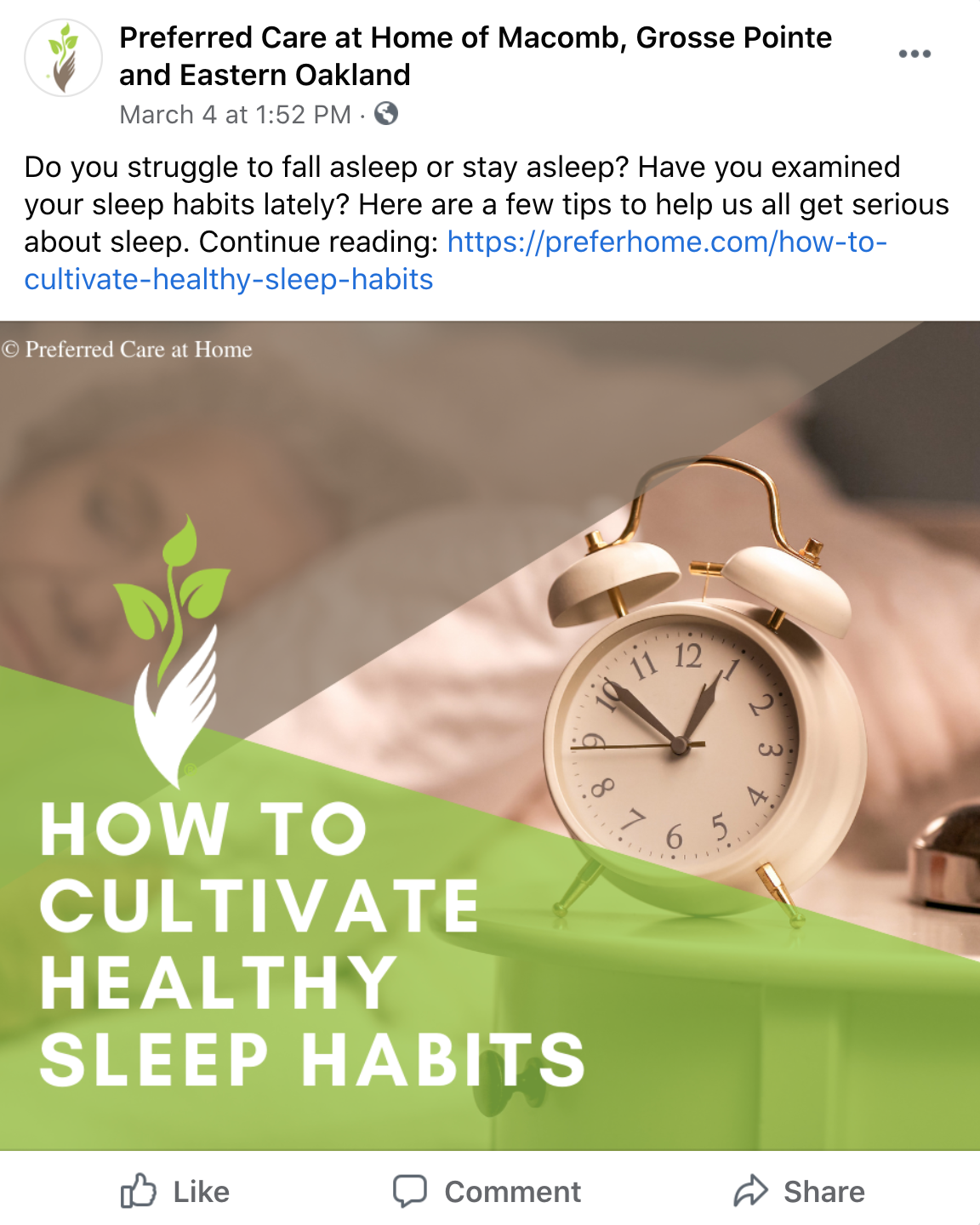 Dedicated Team of Experts
Preferred Care at Home's dedicated Client Success Manager is just one call away! SocialMadeSimple assigned a Client Success Manager, a Digital Ads Specialist, and a team of in-house Content Specialists to learn thePreferred Care at Home brand and become an extension of their team. 
Paid Social Advertising
SocialMadeSimple's custom advertising campaigns are tailored toPreferred Care at Home's needs. We create, optimize, and manage Facebook and Instagram ads to achieve the desired objectives – lead generation, caregiver applicants, brand awareness. & more! 
Consistent Social Presence
We create branded content on Facebook, Twitter, LinkedIn, and Instagram specifically about your business. These posts showcase the business, the people behind it, promotions, and services.
Simplified Reporting
With 24/7 access to the SocialMadeSimple platform, SocialModo, Preferred Care at Home views real-time reports on campaign performance. Additionally, they receive weekly reporting emails that are informative and easy to understand. 
Published Everywhere
We schedule custom Preferred Care at Home
brand content across their Facebook, Twitter, and LinkedIn pages (3 posts per week).

Expertly Crafted
Skillfully crafted social media posts that build
credibility, showcase popular properties, and
position Preferred Care at Home as a leader in senior home care.
 
Boosted To Your Audience
Our platform automatically turns our published content into boosted posts and serves them to Preferred Care at Home's target audience: clients, loved ones, and caregivers on Facebook and Instagram. These posts are excellent for generating awareness and driving website traffic.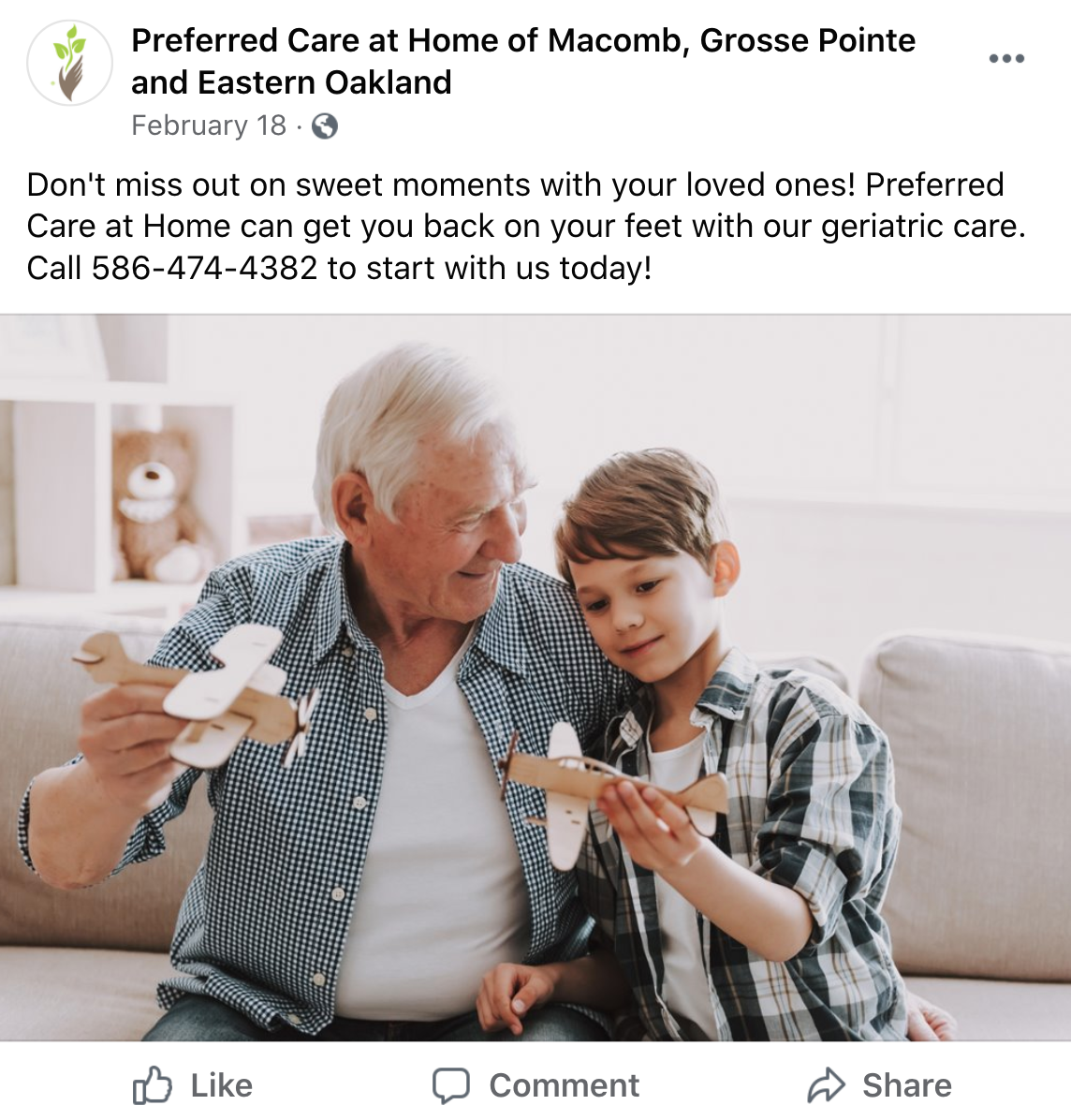 Cost Per 1,000 Impressions
By blending a data-backed strategy around paid social, reaching the clients' marketing personas, and producing world-class creative, SocialMadeSimple provides Preferred Care at Home a social program that delivers results in the form of caregiver leads and patient leads.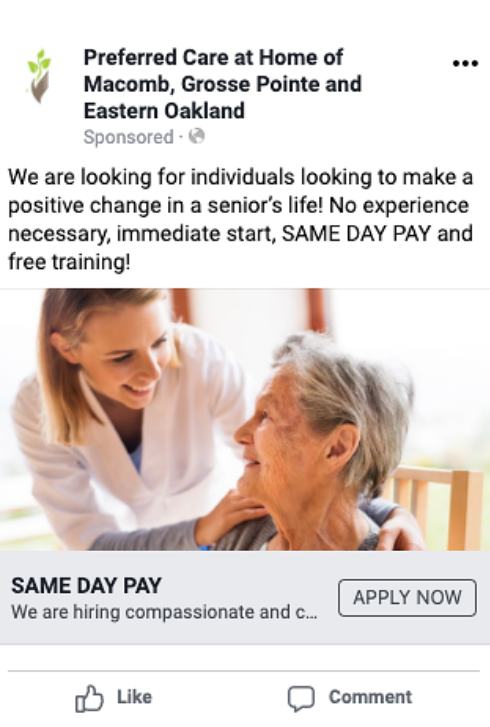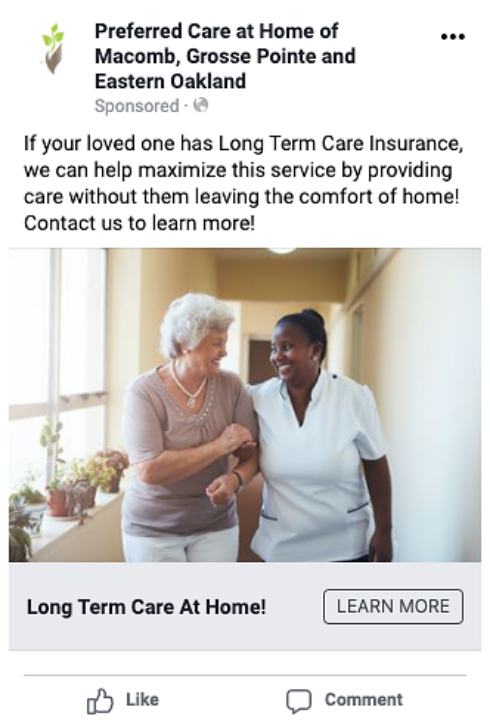 Lead Generation Ads 
Preferred Care at Home's lead generation ads are shown to targeted audiences on Facebook and Instagram. These custom campaigns are served to the Michigan region and promote Preferred Care at Home's two main services: Medical Care Alert and Veterans Aid; as well as the potential benefits offered to PCAH's caregivers. 
New Customer With One Click
The lead generation forms are completely customizable and make it simple for someone to apply for a caregiver position or contact the business to learn more information on services without ever having to leave Facebook or Instagram.

No Website Necessary
Once a form is completed, SocialMadeSimple sends the lead information to Preferred Care at Home's email(s) and CRM in real-time.
Still not convinced?
Chat with our team to learn how you can become our next success story!
With SocialModo, SocialMadeSimple's proprietary platform, Preferred Care at Home has the ability to view and manage editorial calendars, campaign stats, aggregated messages across all networks, and much more.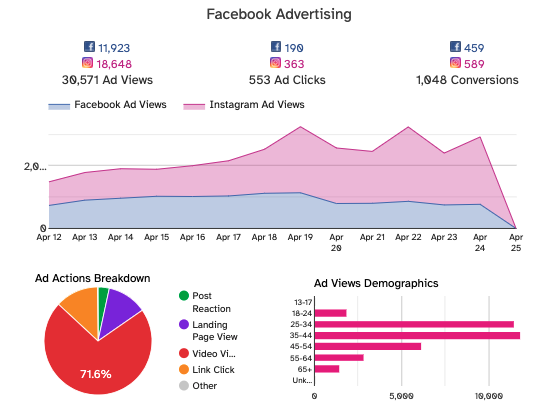 Detailed Reporting
Preferred Care at Home receives comprehensive reporting via platform dashboards and emails.
For The DIYer
Each of our clients is granted access to our platform, allowing them to post content, make edits, view reporting, and more.
Connected Social Networks
Post to Facebook, Instagram, Twitter, & LinkedIn with a single click.
Content Weeks In Advance
We send bi-weekly emails to Preferred Care at Home for feedback and revisions.
Become Our Next Success Story
Choose a time to speak with a member of our strategic sales team!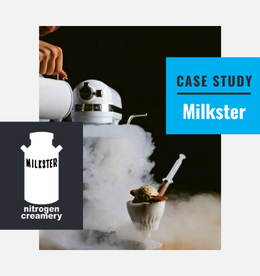 Milkster Nitrogen Creamery is an ice cream franchise that uses liquid nitrogen to custom-make every order. In a 90-day franchise marketing pilot program, SocialMadeSimple became the social media team for five Milkster locations across the U.S. with the goal of driving tangible results in the form of in-store visits, sales, & brand awareness. See how we drove them results through Facebook advertising!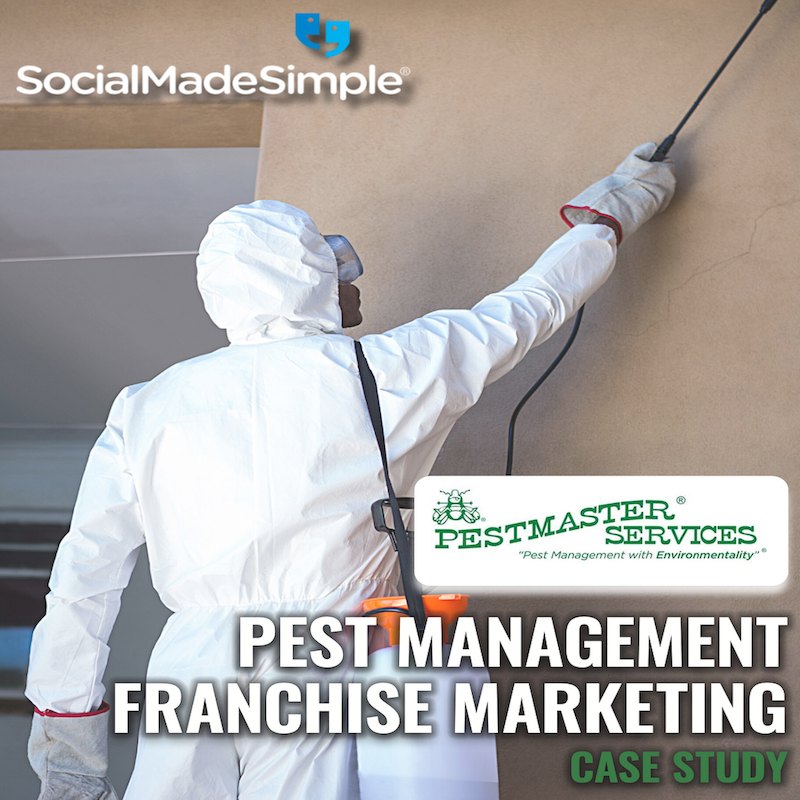 SocialMadeSimple became the social media team for five Pestmaster Services locations with the goal of providing measurable results in the form of new clients, an increase in brand awareness, & a stronger social media presence. Check out the case study to learn how SocialMadeSimple's free 90-day Franchise Marketing Pilot Program drove real results for Pestmaster Services Franchise!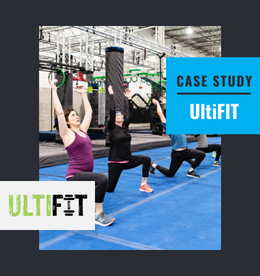 UltiFIT is an adult fitness & obstacle training franchise, offering revolutionary workout programs for all fitness levels. SocialMadeSimple became the social media team for five locations in a free 90-day Franchise Marketing Pilot Program that generated a consistent flow of results in the form of increases in brand awareness, new members, website visitors, and more!