Why Live Streaming Can Be a Beneficial Marketing Tool
There are so many different ways to spend a marketing budget, so why should marketers start investing in streaming live video? Well, it's no secret that video consumption online is becoming bigger and bigger with each passing year. In fact, the online live streaming industry has grown 99% between April 2019 and April 2020 alone [1] and is expected to be valued at $184.27 billion USD by 2027. [2] Now, more than ever, is the best time to take advantage of this rapidly increasing trend to promote your product and company.
Let's Get Personable
Video content is actually more preferred by consumers than reading blogs. Ironic for someone who is currently reading one, right? But believe it or not, some people just don't have the time or patience to sit down and read several paragraphs in one go. Or maybe some people are more visual when it comes to learning about products. Live Streaming allows you to present your work as well as be transparent about yourself as a company via video. Not only are you able to say what you need to say about your product, but your customers can interact with you as well! Most live streaming features on Facebook, Instagram, YouTube, etc. allow viewers to interact with streamers via chat, emoji reactions, or even voice and video in order to receive feedback, answer questions, and more. Interaction with potential customers in such a personal way can ease their doubts, let them learn more about you and your company, and provide a great source of information compared to a website or blog filled with text. It also allows them to see that the person promoting and creating the product is a real person with a personality, face, and voice. This is a great way to build a relationship with your audience!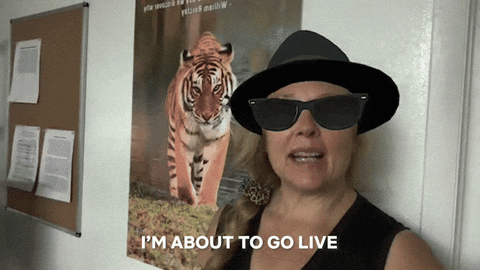 People are Cutting the Cord on Cable
Remember the good old days of TV commercials in between weekly scheduled programming? Unfortunately, for some, those aren't reaching as much of an audience as they used to. Many people are turning to online streaming services or social media to consume their entertainment content. In fact, 44% of surveyed people say that they watch less TV as a result of live streaming options that are currently available. [3] With the existence of Netflix and Hulu, there's no need to overpay for traditional cable packages. Even better – streaming websites such as Twitch and YouTube provide content made by people for absolutely free. On top of that, you can follow your favorite influencers and entertainers for content on their own personal social media pages such as Facebook and Instagram, which is more favorable to most people since they are more personalized than broadcasted TV content. And this can all be done without breaking your wallet.
The Rise of Smartphones
Nowadays, you likely know more people with a smartphone than one without. iPhone, Android, Google Pixel – whatever it is, you probably can get an internet connection with it and watch live video. This allows people to take videos wherever they go and consume it whenever they have the time, including on commutes, on their lunch break, waiting in line, or anywhere else where they have time to kill. This makes video easily and readily accessible anywhere and allows for larger amounts of consumption than, say, waiting to make it home to your computer at the end of the day. People will always be hungry for more while running through content consistently all day, so why not indulge in it?
Adjust Based on Your Results and Get Creative with It!
At the end of the day, live streaming is only as great of a tool as you make it. It may take a bit of trial and error to get started, but by keeping track of statistics and creating unique content, live streaming can change the way you market online. Keep an eye on how long your viewers tend to watch, how often they follow through with calls to action, and how many viewers tend to tune in at different points of the day. Finding out what works best for you can result in finding yourself with a bunch of new loyal followers and potential brand advocates. Live streaming holds huge potential for many brands, so be sure to make the most of it!

Sources:
[1] "37+ Live Streaming Statistics – A Booming Industry [2020]." TechJury, 2 July 2020, techjury.net/blog/live-streaming-statistics/. 
[2] "Global Streaming Up More Than 20% in March, Says Conviva." Streaming Media Magazine, 31 Mar. 2020, www.streamingmedia.com/Articles/ReadArticle.aspx?ArticleID=140026. 
[3] "Video Live Streaming Trends." IAB, IAB, www.iab.com/.

© Copyright 2020 SocialMadeSimple, LLC.