White-Labelled Social Media
Managing your clients' social media accounts can be a challenge.
Finding content, scheduling posts, measuring and tracking effectiveness – it can be difficult to make sure you're staying on top of social media.
Our SocialMadeSimple platform does just that. For our clients, it means individualized social media campaigns can be efficiently and effectively managed. For you, it means having a tool that makes the work you do on social media more efficient.
Are you an agency looking to use our white-labelled social media platform for your business?
Our white-labelled social media platform will help you: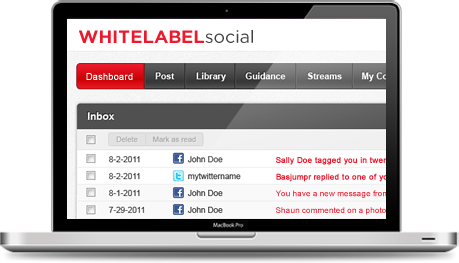 Curate content – our industry-specific content library pulls the best, most engaging content from the web, allowing you to "share" with a click!
Schedule posts – choose the date, time, and which social networks you'd like to post to – or let our scheduler choose a great time for you.
Track and analyze channel performance – review overall page performance and individual post performance with our analytics
Still looking for more help? Our white-labelled social media service will act as your agency's social media department, complete with a custom-branded platform, individual logins for all of your clients, and a full-service social media team at your disposal. Our white-labelled social media Social Concierge teams will:
Set you up on social media – we'll make sure your clients are on Facebook, Twitter, LinkedIn and Google+ with fully-optimized profiles.
Keep your accounts active – our teams curate content and post 5 times per week on each social network.
Grow your clients' networks – find your clients more customers with a monthly Facebook advertising campaign
Analyze and track performance – take a look at how your pages and posts are performing so we can continue to grow your networks!
Want to get started using our white-labelled social media platform or Social Concierge service? Reach out to us at (888) 315-0750 x208 today or sign up to hear more information below:
Your Free Social Media Marketing Assessment