The Ins and Outs of an Editorial Calendar
So, you want to stay on top of your social media but are overwhelmed by how much it seems like there is to do? If this sounds familiar (and trust me, it sounds familiar to me too!), then you're probably missing out on one of the simplest (and free!) tools out there: an editorial calendar. 
And while it may seem like adding another thing to your plate, an editorial calendar, or master spreadsheet of your posts, can really help you visualize your content strategy over any given period of time. 
One of the easiest ways to get started is to simply open up a spreadsheet. I personally prefer Google Sheets because it allows you to share with the whole team at once. It also allows supervisors to manage and edit the calendar with ease.
A simple editorial calendar can be set up with a few simple column headings. The most important things to include are the title or short description of the content, links to articles or images that will make up the body of the post, any text accompanying the link or image, the author of the post, the date it is to be posted, and the channels to promote it on.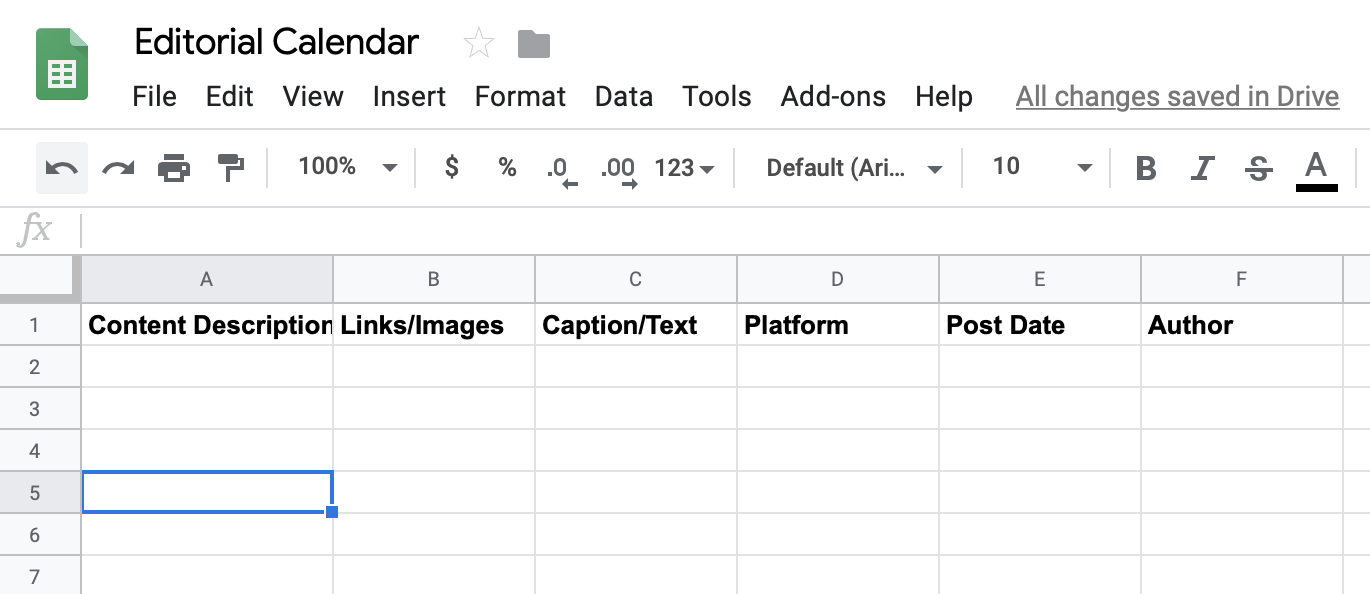 Then, simply plug in the information where you can. Depending on your business, it is possible to pre-plan up to a month's worth of content at once, if not longer. This can be extremely helpful when trying to promote a specific campaign or event. 
Additionally, by having the ability to see the arch of your posts, you can make sure your tone and voice are tailored to your audiences, which can be especially helpful if your audiences vary from platform to platform. This strategy can also be useful for franchise marketing or cross-promoting your platforms (ie, asking your Twitter followers to subscribe to your Youtube channel or newsletter). 

Another great addition to any editorial calendar are columns for tracking how successful each post is. By adding columns that track things like engagement and likes/shares/comments you can track which types of posts and what language is the most successful. You can then compare this data over time and see what works and what doesn't. 
When you're done with your selected time period of posts, simply create a new tab on your spreadsheet, copy and paste the headings from the previous time period, and get cracking once again. 
If managing your editorial calendar through a spreadsheet isn't your preferred method, then you're in luck. At SocialMadeSimple, we've built the industry's most powerful yet easy-to-use social media content platform. You'll be able to do everything we mentioned above, like schedule content in advance, integrate all of your social networks, allow multiple people/teams to access the content, and report back on the performance. It's an all-in-one tool and, most importantly, it's incredibly affordable.
To learn more about our platform and services, click here. 
Your Free Social Media Marketing Assessment