SocialMadeSimple Ranked on the 2022 Inc. 5000 List
Inc. Magazine Unveils Its Annual List of America's Fastest-Growing Private Companies – The Inc. 5000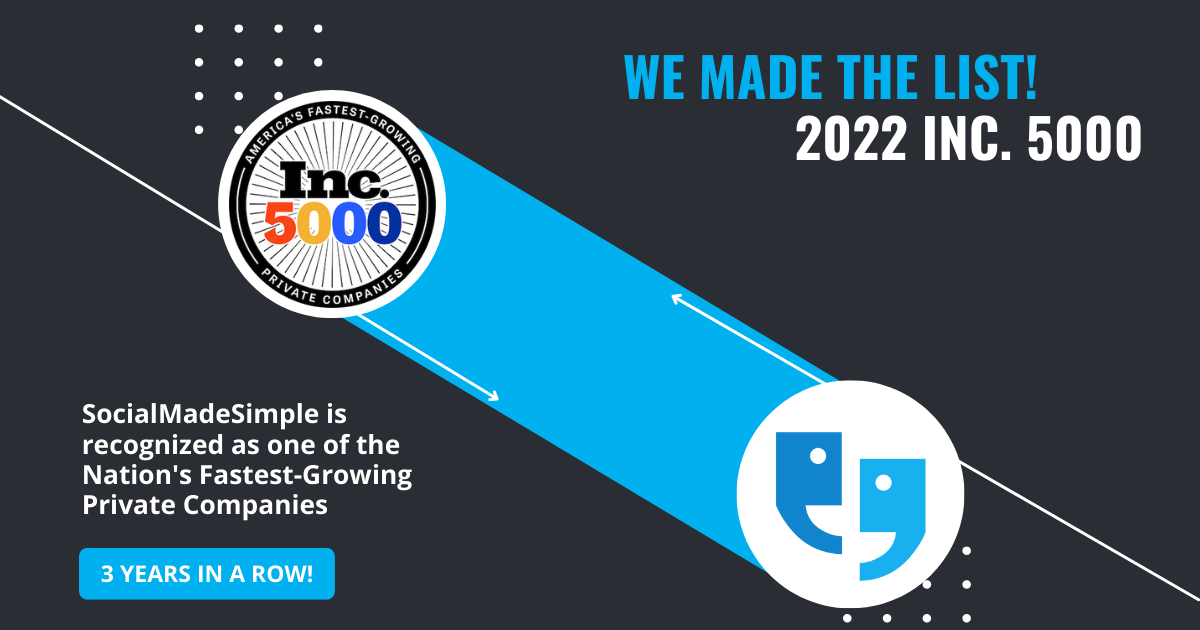 The world's most trusted business-media brand, Inc. Magazine, publishes a list each year of the top 5,000 fastest-growing private companies in the U.S. This year, SocialMadeSimple has been ranked on the Inc. 5000 list for a third consecutive year!
About SocialMadeSimple
SocialMadeSimple is a leader in the social media marketing industry and has been driving success for businesses of all sizes since 2009. We specialize in franchise businesses across diverse verticals ranging from lifestyle and hospitality, healthcare and fitness to quick service restaurants and home services.
What makes SocialMadeSimple stand out? We combine our proprietary social marketing technology with a team of marketing experts to provide a full suite of social media marketing services – Strategy-driven social media advertising campaigns and organic custom content posts.
To learn more about SocialMadeSimple and our mission, please visit https://www.socialmadesimple.com/.
About Inc. Magazine & Inc. 5000 List
Inc. is an American business magazine that offers entrepreneurs the knowledge, tools, connections, and community to build great companies. Its award-winning multiplatform content reaches over 50 million people each month across various channels including websites, newsletters, social media, podcasts, and print.
Since 1982, Inc. has released its Inc. 5000 list every year. This prestigious list ranks the nation's top 5,000 fastest-growing private companies based on overall revenue growth over a three-year period. To apply, companies must meet certain qualifications such as being U.S.-based, privately held, for-profit, independent, etc. Once analyzing all company data, Inc announces America's top 5,000 fastest-growing private companies of the year along with stories, events, honoree resources, and more. For more information, visit www.inc.com.
See the full 2022 Inc. 5000 List: https://www.inc.com/inc5000/2022