-By Robin Greenbaum-
Ask not what LinkedIn can do for you, ask what you can do with LinkedIn. JFK said something like that, right? LinkedIn is often overlooked by many professionals who think the only important social networks to be active on are Facebook and Twitter. While those are very valuable networks, that yes, you should be active on, LinkedIn is no less valuable.
For those social media newbies out there, LinkedIn is Facebook's professional cousin. While Facebook is great for staying in touch with friends and family and seeing what's going on in the world, LinkedIn is the place to network with your peers and colleagues. With over 300 million users, you're bound to find connections both new and old.
So how can you get started on LinkedIn and what can it be used for? To list a few, it can be used to find a new job, connect with people you met at business events, show people you are knowledgeable about your industry/profession, stay up-to-date on business news, and even create new business opportunities. Before all that, you need a great profile! How can this be done? Well, we've written down a few things for you to check off during the beginning of your LinkedIn endeavors!
1. Bring your profile to life! This profile essentially serves as your digital resume.
Add a profile picture. Make sure it is a professional one, not one of you on Spring break, even if you look great in that bikini.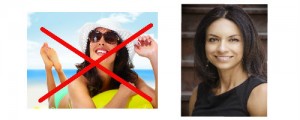 Create your URL. Make it easy for people to find you be creating a URL with your name like this: https://www.linkedin.com/in/geoffcramer
List any current or past positions you wish to highlight. Be sure to add a detailed description of your duties and responsibilities, and any projects you worked on.
Add your skills. Add any skills you feel fit your strengths. This will be important for a later step. According to LI, "members who list skills on their LinkedIn profiles receive an average of 13 times more profile views than those who don't."
2. Build a network
Find people to connect with! Now that you've got a rockin' profile, show it off! Search for any colleagues, past and present, people you've met at business events, family and friends, and anyone else you wish to connect with.
Ask people to endorse you! Your first-degree connections (people who you have formally connected with) on LinkedIn can endorse you for various skills to validate your knowledge about the subject. You can add as many skills as you'd like in your Skills and Endorsements section and you should add the ones you find most fitting to you. You can also hide any endorsements that someone adds if you do not believe it represents you well. Remember, you can endorse others as well, and often they will return the favor.
Ask colleagues to write recommendations. People you have worked well with in the past or currently can write you recommendations to further endorse you.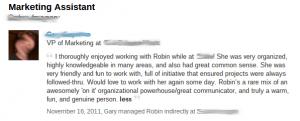 Well, now you've got a great profile. But what do you do with it? Stay tuned for a blog post on how to get the most out of LinkedIn!