There is nothing better on the market. Period.
Marketing automation that produces leads for the Real Estate industry. We guarantee it!
SocialMadeSimple's Just Listed & Sold Facebook Lead Advertising for Realtors uses the power of aggregated data collected over tens of thousands of campaigns and optimizes that data for better targeting on every single subsequent campaign.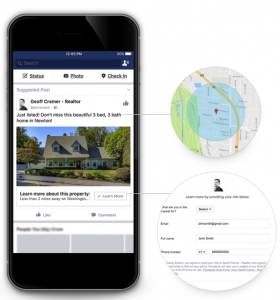 Our proprietary algorithms improve on the inherent power of Facebook as the go to network for effective advertising. We use the combination of data and algorithms to surface "likely buyers" in your market. What could be better?
Sophisticated targeting is the essence of Facebook. Facebook knows everything about you. If you don't tell them yourself, they buy the data elsewhere. They know you're going to get married before you do…and the next car you'll buy!
Our platform tests imagery, creative messaging, targeting and more on an ongoing basis and automatically creates 3, 7, or 14-day campaigns that generate an average of 2.2 leads every single day your campaign runs.
Have your ad running in minutes with just a few fields of data. We can also automate feeds of new listings, sales, open houses, and more.
We can build automated feeds from large offices or corporate enterprises to create campaigns and drive traffic to websites and landing pages, build hyper-local brand awareness, and produce a large volume real leads.
Leads delivered in real time with dynamic reporting pages specific to all of your campaigns, keep you on top of the action.
We encourage you to ask for discounts for volume, at the office or corporate level!
Let's meet at Inman Connect 2017 in San Francisco between August 8-11! Email me at david@socialmadesimple.com or call 888.315.0750 x202