How To Increase Employees' Engagement On LinkedIn, And Why It's Important
Why Does Employee Engagement on LinkedIn Matter?
Gaining visibility on LinkedIn is integral to any successful branding strategy. Keeping the company profile active and engaged is a crucial first step, but anybody who knows business understands that personal connections are everything, making employee engagement the key to gaining both leads and brand exposure through organic LinkedIn engagement. 
According to a report from We Are Social and Hootsuite, the success of content shared by employees versus content posted by an actual company is staggering. Their report states that leads generated by employees are 7 times more likely to convert than any other kind of lead, and people are 8 times more likely to engage with content shared by employees than content shared by brands.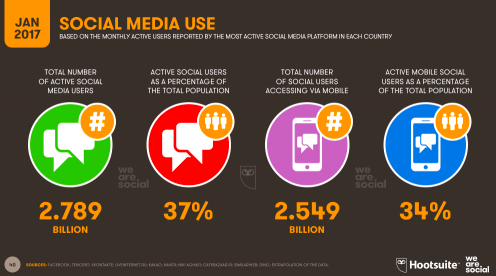 For obvious reasons, people trust people they know far more than companies they recognize, and this is why employee engagement with company content is so effective and important not only on LinkedIn, but on other social media platforms as well. Even things as simple and easy as liking and sharing company posts can have a huge impact. 
How can I Foster Employee Engagement on LinkedIn?
Given that employee engagement is so crucial for reaching your target audience, here are some ways to support employee engagement on LinkedIn:
1. Help employees optimize their LinkedIn profiles
To gain the most from employee engagement with your LinkedIn posts, help them optimize their profile pages to be just as credible and professional as you want your company to look. This includes helping employees fill out all profile information fields fully and correctly and using the best practices for building and developing connections on LinkedIn. 
2. Use employee content for your company's page
Keeping tabs on what your employees are posting on LinkedIn is essential. Reposting your employees' posts not only encourages employees to continue making favorable posts for your company, but it also shows that you are conscientious of the work they're doing and happy to present it on the company's behalf. (Plus it's free content!)
3. Enable employee notifications to company posts
As the owner of a LinkedIn business profile, you can notify your colleagues when you make updates to the company page. Not only will this make sure that employees are keeping up with your company's postings, but it will also help drive up employee engagement with the company page.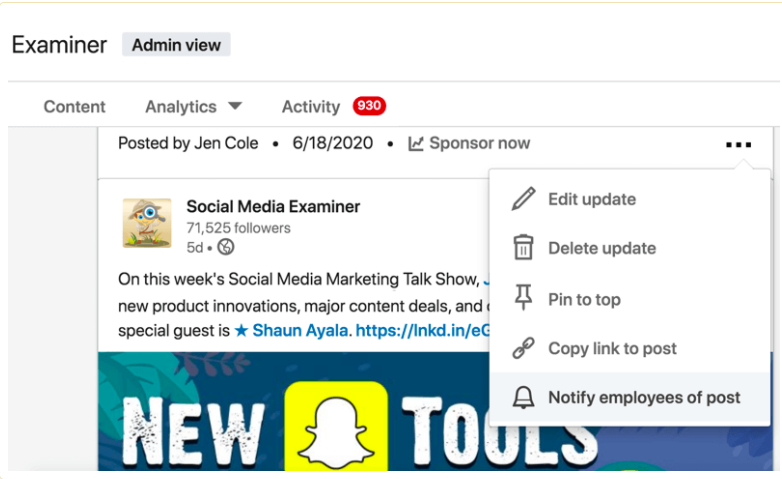 Final Thoughts
When it comes to gaining more exposure on LinkedIn, employee engagement is not only a good idea; it's a necessity. With all employees included in the mix, your company's network and overall reach can expand exponentially, resulting in new leads and increased brand awareness. And all of these benefits are realized for the small price of just keeping your employees updated and active on their LinkedIn profiles. If there ever was a win-win scenario for your company's social media, it's employee engagement on LinkedIn. 
Resources
https://wearesocial.com/special-reports/digital-in-2017-global-overview
https://www.socialmediaexaminer.com/how-to-encourage-employees-to-share-linkedin-content-4-tips/
https://www.socialmediaexaminer.com/how-to-use-linkedin-to-build-powerful-network/
© Copyright 2020 SocialMadeSimple, LLC.