Powerful Marketing for Your Brand
Leverage your locations, retailers, or salespeople into a new marketing channel
Content Library
We will create an organized library of beautiful social media content that will be used to promote a corporate branded and approved message throughout all of your locations.
Big Data
We capture, analyze and aggregate data from across your locations or retailers to give you valuable insights into consumer profiles, and optimize your future marketing.
Support Your Locations
Your network is confused and struggling to keep up with social marketing – offer them a simple, hands-off solution that works.
Powerful Products for Your Clients
Arm your locations, retailers or salespeople with the most advanced social presence
Social Media Page Creation
Facebook & Instagram Ad Campaigns
Content Creation & Scheduled Posting
Full Access to Our White Labeled Dashboard
White Label Our Dashboard
Make our robust social marketing platform part of your brand.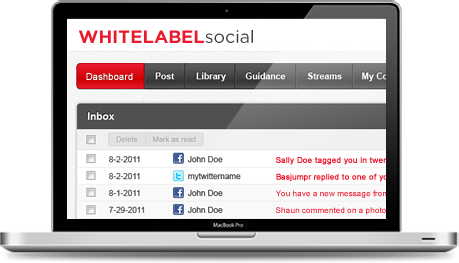 Give your clients a simple, yet powerful, way to manage their social media marketing. Features include:
Fully white labeled dashboard with your logo and colors
Customized URL
Seamless integration options with no technical skills required
API or iframe implementation
Comprehensive support & training resources
How Powerful Could Your Network Be?
Let us analyze your brand and network and tell you how big an impact we can have!
Set Your Expectations High. We'll Go Higher.
We strive to create lasting partnerships through our unmatched support and flexibility.
Custom Solutions
We will build a solution that works for your brand and your network, and takes full advantage of all social media has to offer your business.
Dedicated Team of Experts
You'll get an assigned team of experts to manage your accounts and create strategies for your brand.
Ongoing Consulting
We'll continuously check in with you to offer consultative advice and overviews.
Support Your Team
We'll craft all the marketing materials and resources your team needs to drive adoption.
Comprehensive Training
We offer online training for you and your team with supporting reference materials to keep you informed.
Quick Launch
Forget the wait! Once you sign on, we'll get to work and have you ready to go to market in weeks not months.
"SocialMadeSimple meets all of the needs of a marketing pro with a suite of tools with strong analytics capabilities. My clients continue to see high ROI and low cost-per-click for their social marketing campaigns. Not only are the dashboard and user interface well-designed, but the thoughtful lineup of team support I get every time I call continues to make it my social media solution of choice."