Social media is constantly changing. One of the most valuable things we do for our customers at SocialMadeSimple is to stay on top of those changes, and make sure we're helping them take advantage of everything social networks have to offer. One of these changes has inspired an exciting, new product line. Take a break from your daily grind and we'll tell you the story of this new product's creation. No coffee needed though, we'll keep it short.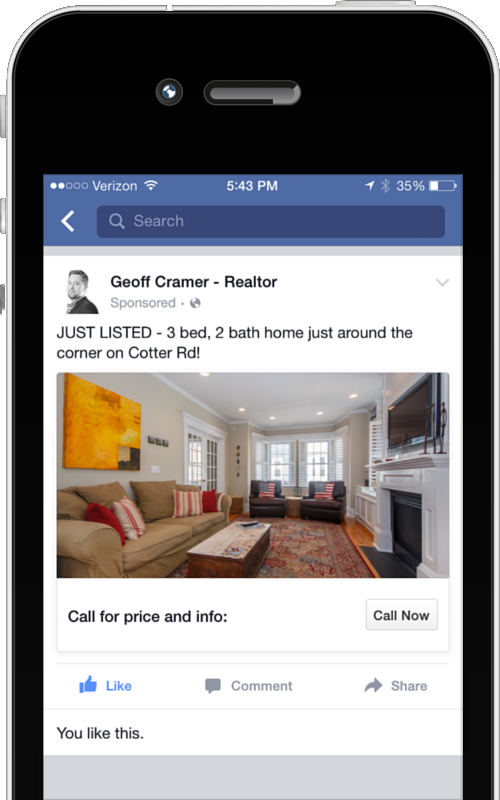 Recent reports have found that 79% of all users are accessing Facebook from their mobile devices. In response to that, Facebook released a new ad type called "Local Awareness." This new ad gives us the capabilities to target mobile Facebook users when they are currently located within a radius of a specific address. For example, I can say "show these ads to anyone within 3 miles of 123 main st." – a little creepy right?
As I was testing this new ad type, I was struck with a bit of deja vu! Setting up these ads was JUST like creating a "just sold" postcard mailing back in the day when I was a real estate agent. Choose a photo, write some short text, then draw a radius around an address. I wondered, could these ads be a better way to market "just sold" listings for real estate agents than the tired, old postcards?
Just listed/sold postcards are one of the oldest marketing methods for Realtors, and it's because they work. Letting everyone in the neighborhood know you know how to sell a house there makes it much more likely that someone else thinking of selling will give you a call. But, printing and postage are expensive. It costs around $350 to send 500 postcards. That's a lot of dough to reach 500 people!
Not only are Facebook ads a far less expensive way to reach people, they also can be "viral" when someone clicks "like" or "share." Not to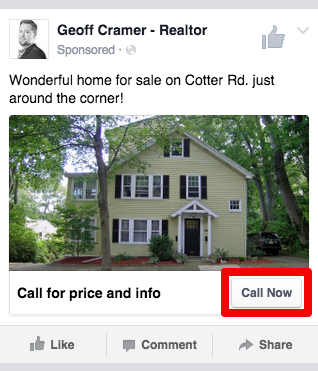 mention, these new ads have an even better feature, a "Call Now" button. That's right – someone taps the button, and their phone will dial the agent! Instant gratification for the consumer and great business for the realtor.
I set off to test these ads with some of our real estate customers, and sure enough, they worked like a charm: for around a hundred bucks we were seen by 5,000 people, 10 times the 500 from postcards, generating dozens of website clicks, not to mention phone calls!
Early feedback from real estate agents we talked to was extremely positive, and we knew this wasn't just an add-on to our "Concierge Service" but a whole new stand-alone product line. In just a couple weeks we built the technology, webpages, order process, and marketing plan.
And on that note, we are thrilled to announce our Just Listed & Sold Facebook Ad campaigns for real estate agents!
Soon we'll adapt this new technology to other businesses, and are beginning tests for restaurants, home service providers, and schools. Have another industry you think this would work for? We'd love to hear from you!