On social media, you want numbers to go up. By numbers, we mean fan count, engagement (likes and shares), and reach. And no one likes being spammed or looking at automated posts on their newsfeed. You most definitely don't want your fans to unfollow you because they don't like your posts. But how, you may ask, do I prevent that from happening? Well, if you want to have some rockin' posts and develop a strong fan following, finding good content and using the correct strategy to post is essential if not absolutely necessary. Here are some do's and don'ts to help you search for good content that people will want to look at and how to post it.
Do's: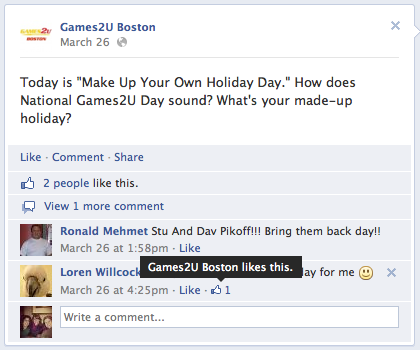 Do find articles, pictures, and videos that you know your audience will want to watch
Do ask them a question and ask them to comment with the answer
Do ask them to "like" or share a status
Do mix up the type of content you use by switching between posts with images, links, or just text
Do take note to what kind of posts and topics your audience like the most and start posting more about that topic
Do find content with varying types of seriousness, you don't always want to be posting about all serious or all funny things, mix it up a bit
Do stick to what you know, don't go and try to post about something you have no knowledge about
Don'ts: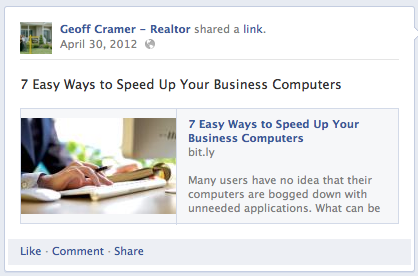 Don't use the title of the video or article as your post- write up something that will intrigue your followers and make them want to find out more, give them a reason to follow through
Don't only post about sales and advertise things to them, social media is meant for communicating with your audience, not at them
Don't ignore comments on your posts, respond to them. It will let your followers know that you are paying attention to what they say
Don't post about things that are irrelevant to your industry
You don't need to sit at your computer for hours with glazed over eyes and a Redbull in front of you.  If you do it right, finding good content is easy.
Social media can be easy and fun. Don't let your frustration or fear keep you from using it. It won't bite you, we promise. Happy posting!