Become Our Next Success Story
Versa Lift's Social Media Campaigns Reach Over 2 Million Users on Facebook & Instagram
Home Improvement Business Case Study
View Full Case Study

Versa Lift by Byers Products Group is one of the best home storage systems on the market and has been driving results with SocialMadeSimple since 2018.

The client needed a social marketing program that, above all else, focused on increasing brand awareness, driving website traffic, and building engagement to generate new customers.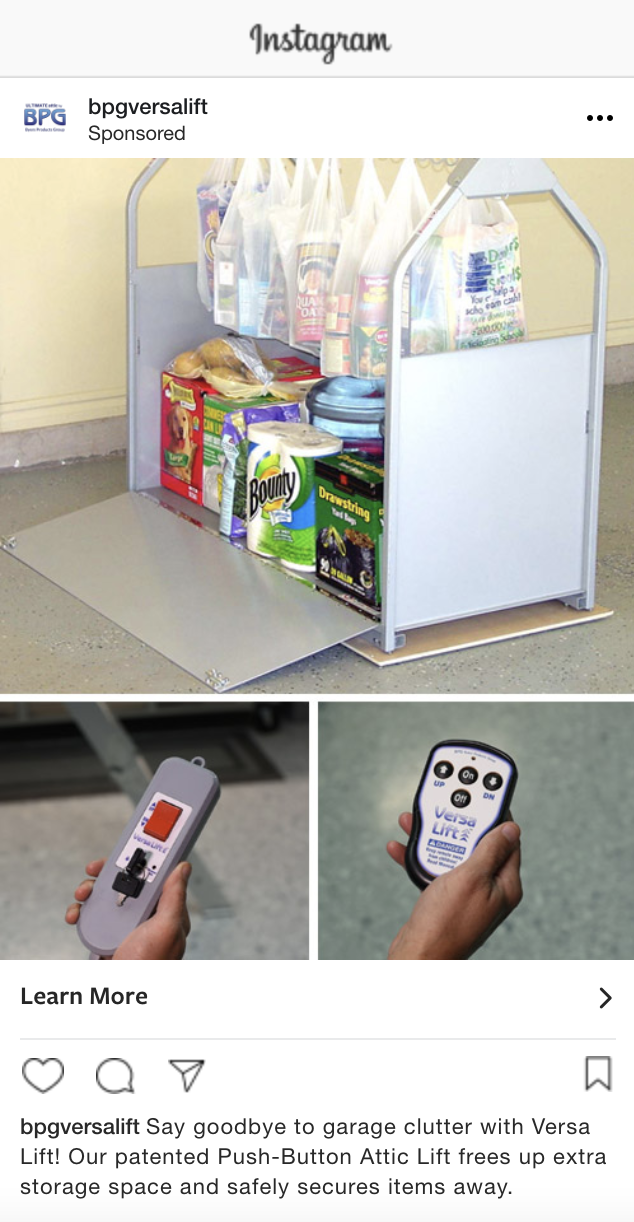 Social Media Advertising
SocialMadeSimple's custom advertising campaigns are tailored to Versa Lift's needs. We create, optimize, and manage Facebook and Instagram ads to achieve the desired objectives – website visits, new customers, & greater brand exposure! 
Consistent Social Presence
We create branded content on Facebook, LinkedIn, & Twitter specifically about the business. These posts showcase products, customer benefits, & more.
SocialModo
With 24/7 access to the SocialMadeSimple platform, SocialModo, Versa Lift views real-time reports on campaign performance. They can approve content, access support via a dedicated Client Success Manager, & the list goes on!
Social Media Advertising Strategy
By blending a data-backed strategy around paid social media advertising, reaching the client's marketing personas, and producing world-class creative, SocialMadeSimple provides Versa Lift with a social marketing program that generates tangible results. 
SocialMadeSimple creates targeted, hyper-local Facebook & Instagram ad campaigns designed to drive web traffic to Versa Lift's landing pages. 
Primary Targeting Parameters:
Ages: 30 – 65+
Interests: Interior Design, Renovation, Home Improvements, etc.
Other Key Target Audiences:
Web traffic retargeting 
Engaged users
Customer lists
 *Example of targeting parameters, not an exhaustive list
Social Media Advertising Results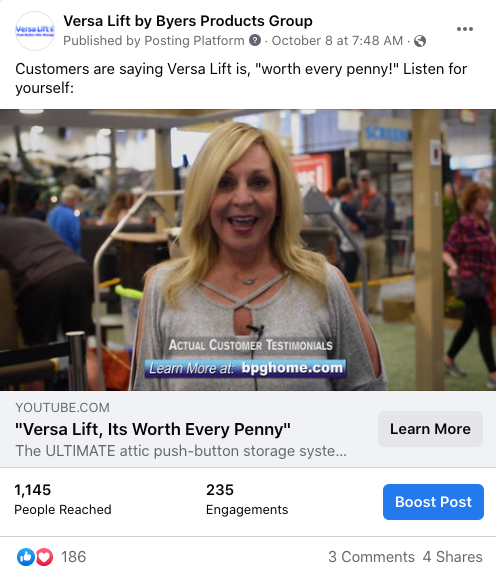 SocialMadeSimple posted custom content 3x/week to Versa Lift's Facebook, LinkedIn, and Twitter. to build credibility, showcase the brand, and position them as a leader in the industry.
These social media posts were skillfully crafted, maintained a consistent posting frequency, and were continuously optimized for the best results in the form of engagement.
Boosted Posts
SocialModo turns high-performing content into boosted posts.
Boosted posts are served to a target audience.
Reach an audience beyond existing followers.
Messaging
Promote popular products.
Showcase strong customer testimonials.
Highlight key product benefits: convenience, safety, cost-efficiency, etc.
Social Media Content Results
Still not convinced?
Chat with our team to learn how you can become our next success story!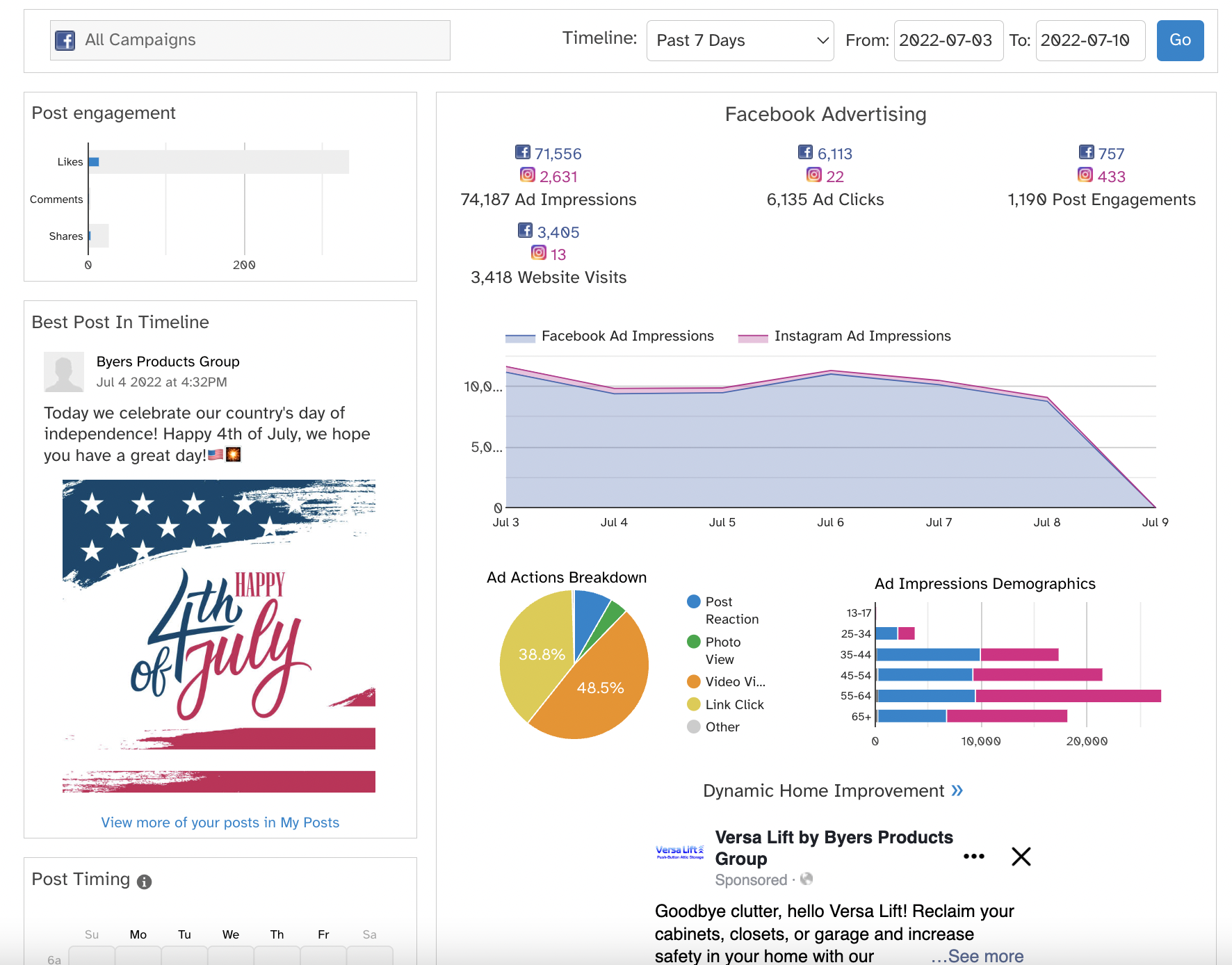 With 24/7 access to SocialModo, Versa Lift has the ability to view and manage their content calendar, campaign stats, and aggregated messages across Facebook and Instagram in real-time.
Detailed Reporting
The client receives comprehensive reporting via analytics dashboards and emails.
Access to Support
Versa Lift's dedicated Client Success Manager is available for support or updates on campaign performance.
Connected Platforms
Schedule & publish posts to the brand's Facebook and Instagram with a single click.
Content In Advance
We send bi-weekly emails to Versa Lift for feedback and revisions to ensure all content exceeds expectations.
Performance Results Summary
Become Our Next Success Story
Choose a time to speak with a member of our strategic sales team!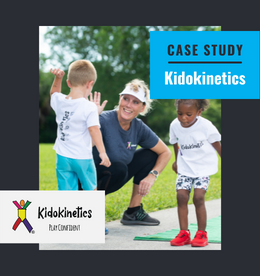 Become Our Next Success Story Kidokinetics is a children's fitness franchise offering all-around sports fitness programs for kids of all ages and fitness levels through local camps and classes. They needed a social media marketing strategy that could effectively boost...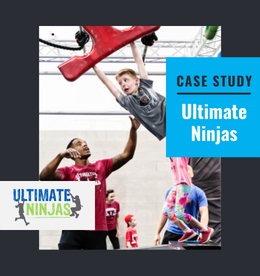 Ultimate Ninjas is a children's fitness franchise, inspired by the hit television show American Ninja Warrior, that offers ninja training for kids of all ages and skill levels. During a 90-day franchise marketing pilot program, SocialMadeSimple became the social media team for five Ultimate Ninjas locations. We generated a consistent flow of results in the form of summer camp sign-ups, class and birthday party bookings, and a boost in brand awareness.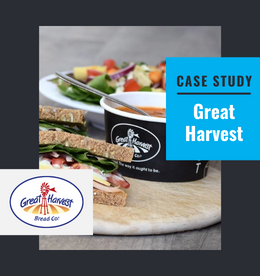 Become Our Next Success Story Great Harvest Bread Company is a bread bakery franchise with over 200 store locations across the United States.    SocialMadeSimple became the social media team for five Great Harvest Bread Co. locations with the goal of generating...