Become Our Next Success Story
FRED Fire sells fire extinguishing devices designed by firefighters, for firefighters.

Many businesses that offer unique products are hesitant to utilize social media marketing. However, Facebook's robust targeting capabilities, coupled with the SocialMadeSimple platform, make social media the perfect marketing vehicle for niche products. 
Increase In Facebook Followers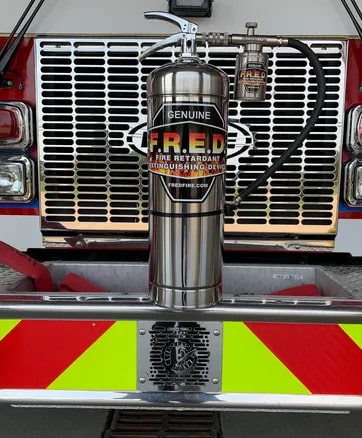 Paid Social Advertising
SocialMadeSimple's custom advertising campaigns are built to achieve FRED FIRE's goals. We create, optimize, and manage Facebook and Instagram ads to meet the desired objectives – generate a steady flow of qualified leads and video views! 
Simplified Reporting
With 24/7 access to the SocialMadeSimple platform, SocialModo, FRED FIRE views real-time reports on campaign performance. Additionally, they receive weekly reporting emails that are informative and easy to understand. 
Dedicated Team of Experts
Our Client Success Team is just one call away! SocialMadeSimple assigned a Client Success Manager, a Digital Ads Specialist, and a team of in-house Content Specialists to learn the FRED FIRE brand and become an extension of their team. 
Consistent Social Presence
We create branded content on Facebook, Twitter, LinkedIn, and Instagram specifically about the business. These posts showcase the business, the people behind it, promotions, and services.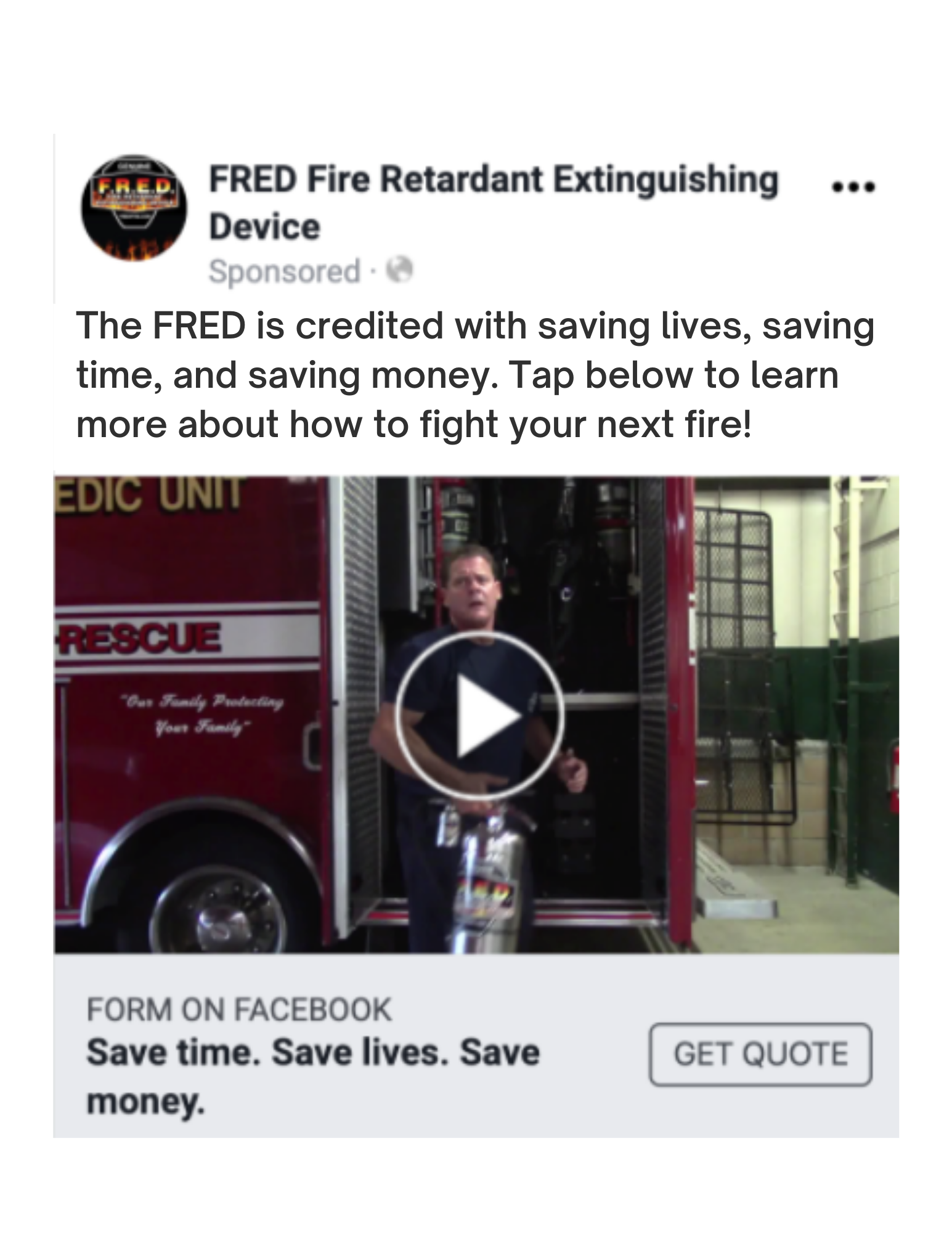 SocialMadeSimple curates, creates, and posts organic content to FRED FIRE's Facebook page (12 posts per month).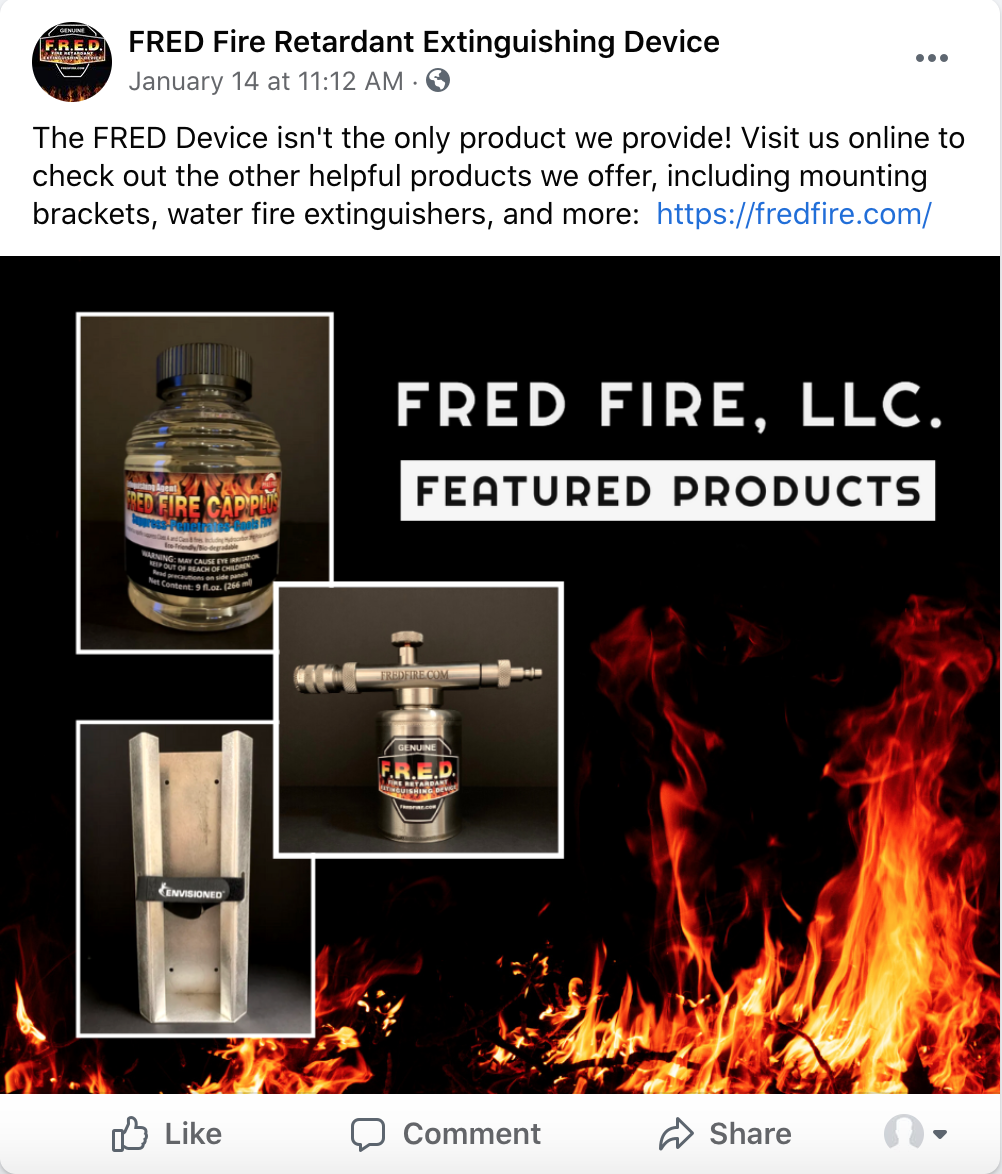 Published Everywhere
We schedule content across Facebook, Twitter, LinkedIn, and Instagram.

Expertly Crafted
Skillfully crafted social media posts that build credibility, showcase services, and position FRED FIRE as a leader in their space.

Boosted To Your Audience
Our platform automatically turns our published content into boosted posts and serves them to your target audience.

Targeted Social Advertising
Lead Generation Ads
FRED FIRE's lead generation ads are shown to a targeted audience on Facebook and Instagram.
Customized Ads & Form
These ads are completely customizable and make it simple for a customer to receive a quote without ever having to leave Facebook or Instagram.

No Website Necessary
SocialMadeSimple sends the lead information to FRED FIRE's email(s) and a CRM in real-time.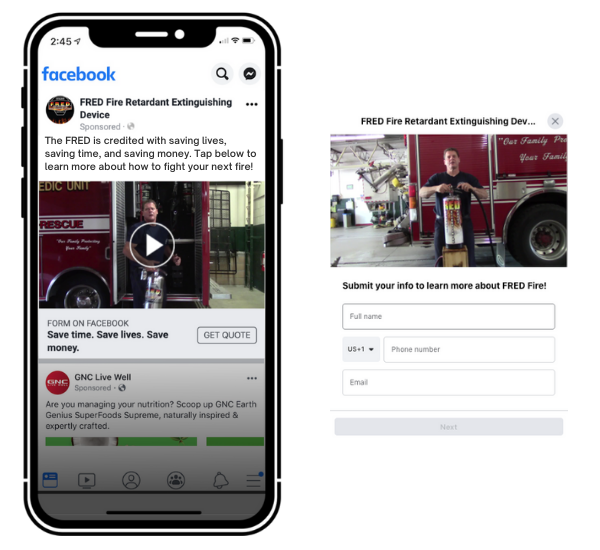 Still not convinced?
Chat with our team to learn how you can become our next success story!
With SocialModo, our proprietary platform, FRED FIRE has the ability to view and manage editorial calendars, campaign stats, aggregated messages across all networks, and much more.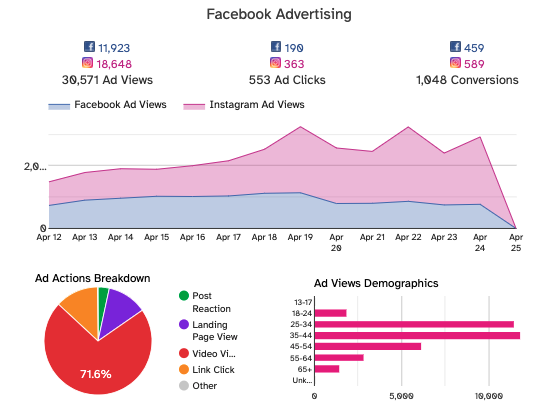 Detailed Reporting
FRED FIRE receives comprehensive reporting via platform dashboards and emails.
For The DIYer
Each of our clients is granted access to our platform, allowing them to post content, make edits, view reporting, and more.
Connected Social Networks
Post to Facebook, Instagram, Twitter, & LinkedIn with a single click.
Content Weeks In Advance
We send bi-weekly emails to FRED FIRE for feedback and revisions.
Become Our Next Success Story
Choose a time to speak with a member of our strategic sales team!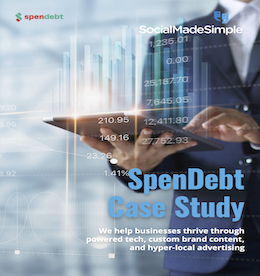 SpenDebt was in search of the best marketing for an app. They need a marketing program to increase awareness & drives new users to sign up & download their app.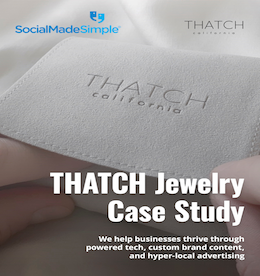 Become Our Next Success Story THATCH Jewelry is a luxury jewelry boutique, offering handmade jewelry from necklaces to rings, and beyond since 2014. THATCH was in need of a comprehensive social marketing program that, above all else, focused on driving website...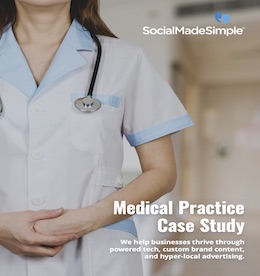 SocialMadeSimple works with a leading end-to-end medical practice growth solution provider. This partner was looking to add social media services to their suite of products and they were in need of a white-labeled vendor that could deliver quality social media services at scale for several of their clients. Today, SocialMadeSimple produces social media content and ads for over 1,600 of their active clients.