Technology & Marketing Predictions For 2021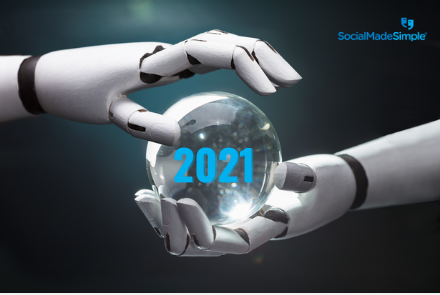 Predicting the future has never been an easy task, and this has never been more true than after reflecting on the rollercoaster year of 2020. However, it's 2021 now, and I'm going to offer a few predictions about the admittedly uncertain future of technology and marketing.
Automation Will Continue To Improve
It's no secret that automation and artificial intelligence are being widely adopted by individuals and businesses of all shapes and sizes. Among other things, Tesla's autonomous vehicles have propelled Founder and CEO Elon Musk to be the wealthiest man alive. 
Companies like Salesforce and Hubspot have revolutionized the business world's sales and marketing process. These CRMs offer automated email technology that allows marketers to utilize mail merge tags to send mass emails that feel personalized. With a few clicks, marketers can substitute the recipients' names, business names, job positions, birthdays, and more into their emails. Although this technology has been around for a very long time, it's only recently that companies have begun using it in other applications, like social media.
SocialMadeSimple, a social media marketing agency with its own proprietary software, is at the forefront of automated digital marketing. SocialMadeSimple uses mail merge tags to post hyper-local content for their multi-location clients. Take the following post, for example, "Homeowners in Austin, TX can receive 50% off their first landscaping weed control application when they book this season." This same post can be automatically published to the client's additional locations, with the appropriate city swapped. Additionally, SocialMadeSimple's software supports cross-platform publishing, meaning that the same post can be published to Facebook, Twitter, LinkedIn, and Instagram with the single push of a button.
Virtual Events Are Here To Stay
Covid-19 forced countless businesses to shut their doors and quarantined millions of Americans. In-person business conferences, concerts, meetings, and classes were all essentially postponed or canceled. Humans are resilient, and this unforeseen situation has accelerated innovation, leading to virtual tools.    Virtual conference technology proved to be a viable option for businesses. Virtual events are more affordable, more accessible, and better for the environment. Many concerts and other live events were held online. "70% of people used YouTube during 2020 to watch online replacements of live events" (Youtube's Culture & Trends Report). And, Zoom became the go-to option for meetings and classes. 
So, what does this mean for 2021? Mainly, it shows that virtual events can work! Regardless of if we ever get back to a pre-pandemic world, there will always be people that prefer to have a virtual option, and why not? If you can secure a new business partnership in your pajamas, it seems like a no-brainer that virtual events would continue to take place as the year progresses. Variety is the spice of life, and hybrid virtual and live events are likely the future. If you're a kid, sorry, you may never see a snow day again.
Positivity Will Prevail
Generation Z (individuals born between 1997 and 2012) is estimated to make up over 20 percent of the U.S. population, according to Statista. This rapidly growing demographic has grown up in a digital environment, making them experts in detecting "hard sells." Consumers are getting smarter, and it's no longer realistic to expect a conversion on the first ad impression. Additionally, Gen Zers seem to resonate with healthy and happy messaging more than any other generation. For these reasons, the average customer journey is longer, and marketers are finding new, positive ways to connect with their audiences.  
Luckily, positivity is "in," meaning we should expect more uplifting and philanthropic campaigns in 2021. Gen Z is entering the workforce, giving them newfound buying power. Marketers who are playing the long game know how important it is to please this demographic. So, make the right financial and moral decision, and start putting out good vibes only.
Wrapping It Up
As unpredictable as 2020 was, it's clear that technology and business aren't slowing down for anyone or anything. The future is now, so take advantage of the digital tools, buy yourself a good webcam, and keep it positive!
© Copyright 2020 SocialMadeSimple, LLC.