In-House Marketing vs. Agency Marketing: Which Should I Hire?
Throughout the growth of your business, you will likely be faced with the ultimate question: should I hire in-house marketers or a marketing agency? 

An in-house marketing team consists of one or multiple professionals being hired to work exclusively for your business. Hiring (the ideal) digital marketing agency combines a team of marketing experts with social media management software. There is no right or wrong answer, but there are numerous factors to consider before making any decisions. 
$$$
First things first – cost. Hiring an in-house marketer can be a time-consuming process and an expensive solution. According to Glassdoor.com, the average annual salary of a full-time Social Media Manager in the United States is $50,473. Aside from the salary investment, bringing on a full-time marketing employee comes with additional heavy costs such as:
Employee Benefits 

Recruiting

Hiring

Training and Integration

Human Resources Support

Social Media Management Software
Price packages can range across different agencies, with an average price of $1,400 per month. An affordable agency, like SocialMadeSimple starting at $499 per month, not only costs you less, but also includes marketing software and a full team of experts.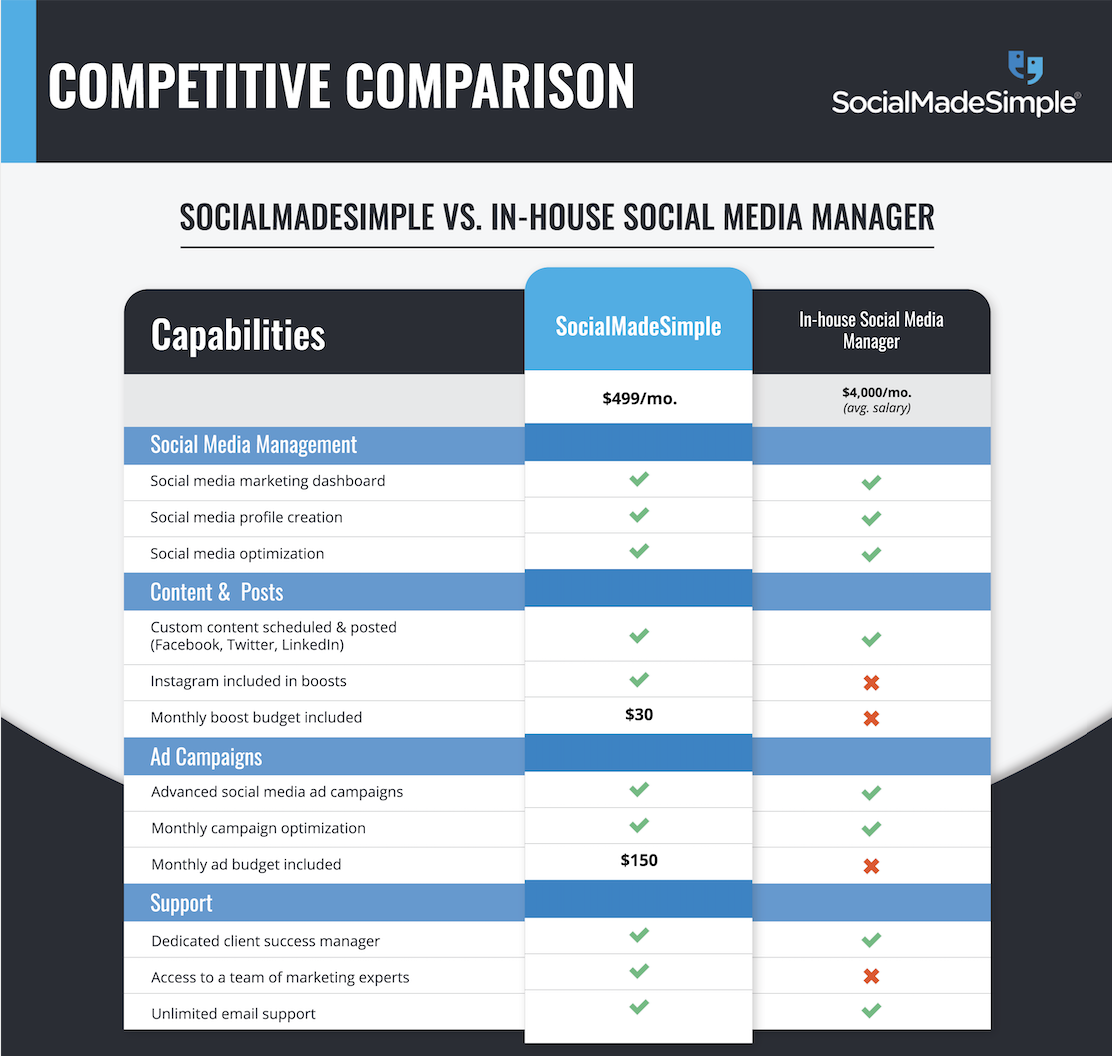 Variety of Skills & Expertise
Your marketing goals may require a deeper level of expertise and a variety of skill sets such as analytics, social selling expertise, content creation expertise, paid social advertising, etc. You may not fulfill these needs by hiring one social media manager, and hiring an in-house team is not easy… or cheap. If you are looking to affordably build a team with a diversity of skill sets, hiring a marketing agency is an efficient and affordable way to go. This way, you get a team of marketing experts at a fraction of the cost!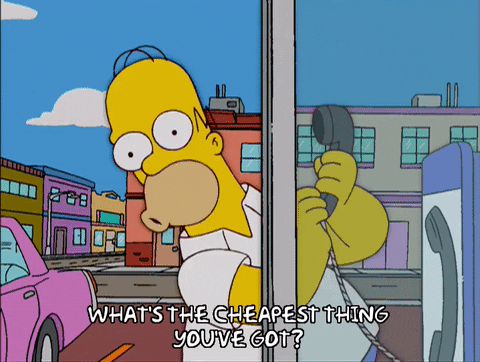 Access to Marketing Tools & Technology
Hiring a full-time employee doesn't necessarily mean they come with the marketing tools and technology needed to get the job done. It can be easy to forget that there's more to the price tag of an in-house marketer than just the salary. A well-equipped marketing agency should already have the platform and tools you need in place to successfully manage your social media marketing. 
Current Marketing Situation
How quickly do you need your marketing to grow? Does your current marketing strategy need a complete makeover? If your business's marketing situation is not looking too great, an agency might be your best solution for quick growth. Agencies work with several businesses and are equipped to quickly assess and listen to your business's marketing needs.
Finding the right in-house candidate for a job can be a time-consuming process that includes resumes, multiple interviews, and training on the ins and outs of the brand.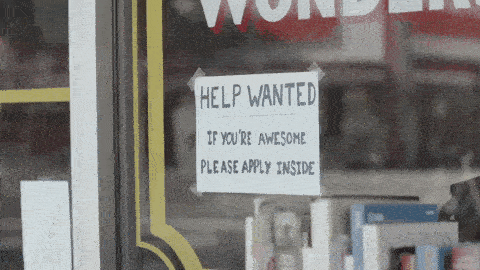 Ease & Efficiency in the Hiring Process
How do you accurately judge the quality of a candidate? Let's just say this… it's not easy. Yes, there are resources like resumes or references that can provide insight but it can be difficult to validate the credibility of these resources. When hiring an agency, the accessibility and transparency of information make the process easier and much less time-consuming. You can find all the information needed to determine which agency is the perfect fit for your business's marketing needs through case studies, honest client reviews, and tools like clutch.co, a website that lists, ranks, and summarizes hundreds of thousands of agencies.  
Brand Investment & Company Culture 
As you would expect, it can be difficult for an external team to fully integrate with the company's everyday routine and culture. Considering marketing agencies have responsibilities to other businesses, it's likely that an in-house hire would be more invested in the overall growth of the brand. 
Although agencies provide constant (or even unlimited) email and phone support, a full-time employee has the opportunity and flexibility to be more easily accessible on a day-to-day basis for meetings and build familiarity with the brand. In this case, some business owners prefer to hire a full-time employee if this is their most prioritized factor when hiring a marketing team.
Industry Trends & Best Practices
If you aren't already using social media for your business, odds are your competitors are. Digital marketing agencies are constantly on the lookout for the newest trends and best practices to stay competitive. Considering an agency has a full team of marketers and works with multiple businesses across different industries, they are more likely to have the time and resources to be constantly innovating as opposed to a single full-time employee. By outsourcing your marketing, you can keep up with the industry's latest and greatest, stay ahead of competitors, and never get left behind.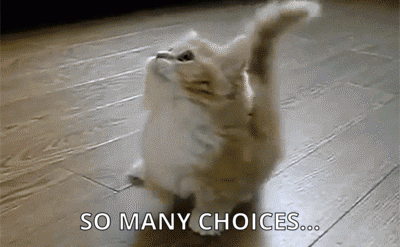 So Which Should I Hire?
At the end of the day, the answer to this question depends on your marketing budget, your marketing goals, and the factors mentioned in this article that you relate to and prioritize the most. If you find that you are still somewhere in the middle with your decision on the best solution, always remember that a combination of the two can be a viable option as well. 
Still not sure which way to go? Does it sound too good to be true to find a digital marketing agency that's actually affordable, comes with access to powerful marketing technology and provides constant support?
SocialMadeSimple has been the affordable social marketing solution for over 30,000 businesses across various industries by combining our proprietary platform with a dedicated team of marketing experts. Schedule a call with us to get your questions answered about how we can work together to build and execute a marketing strategy!
© Copyright 2020 SocialMadeSimple, LLC.