A flurry of articles and blog posts recently revealed Facebook's intentions of removing the post attribution for third-party social media software. No idea what that means? Its OK! We'll explain it here as part of our "in plain english" series.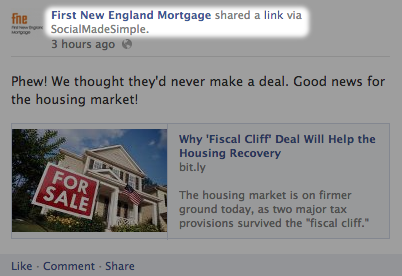 So, what's a post attribution? When someone posts to Facebook using an "app," Facebook tells anyone looking at the post which app it came from with an "attribution." These "apps" could be a social media platform like SocialMadeSimple or Hootsuite, a music app like Spotify or a news reader like The Washington Post. This used to appear in the form of text, reading "via SocialMadeSimple," for example (shown on the right).
Many people and businesses use apps in order to keep more active on social networks. However, we often heard from our customers that they didn't like this "attribution" as they felt it made their posts look like there were advertising – or that the posts weren't original.
As of Jan 1st however, Facebook has changed their app attribution, to no longer show the name of the app, just the small logo (called a "favicon"). See an example below.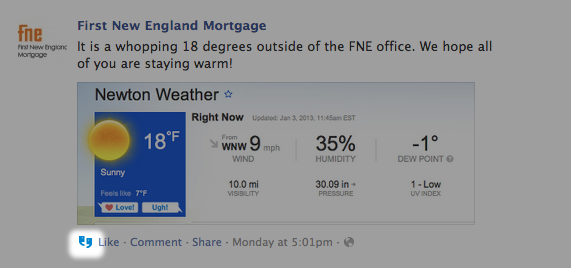 We'll likely never know why Facebook made the change – it could have been to encourage more engagement with posts made through an application by making them look more like posts made directly on Facebook, or simply to clean what has become a cluttered newsfeed.
While most business users welcome the change, developers may be unhappy – apps often rely on attribution to grow their user base – "Hey, look at that cool thing my friend posted with that app, I'm going to check it out!" This will hurt small apps that rely on viral marketing to gain users.
At SocialMadeSimple we're happy with the change; our posts are always written by a real person, and while we never thought the old attribution style made much of a difference for the average Facebook user, anything that even remotely might increase engagement with our customers posts is good with us!
Are you happy with the changes? Let us know with a comment!